FOCUS Investment Banking Represents Opti-Forms, Inc. in its Acquisition by BBd Affiliated, LLC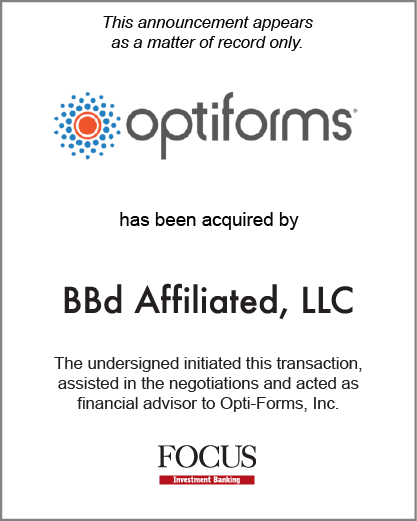 Washington, DC (August 31, 2016) – FOCUS Investment Banking, a national middle market investment banking firm providing merger, acquisition, divestiture and corporate finance services announced today that Opti-Forms, Inc. has been acquired by BBd Affiliated, LLC.
Opti-Forms, located in Temecula, California, is a sophisticated optical solutions firm, providing design, engineering and manufacturing services for precision applications globally in the medical device, semiconductor, aerospace and defense, industrial safety, specialty lighting and other sectors.
Through its affiliated companies, BBd Affiliated, headquartered in San Jose, California, supplies copper based metals and engineered plastics, silicon and germanium parts, metallized and resistive coated ceramics, vacuum and atmosphere brazed assemblies and photo-chemically machined parts, and provides chemical etching, chemical machining, and metal stamping and finishing services.
According to Clint Tinker, the owner of Opti-Forms, "Selling a privately owned business can be complex and emotionally taxing. Our advisors, FOCUS Investment Banking, ran a very thorough process and identified interest in Opti-Forms among both strategic and private equity buyers. I am excited that Opti-Forms will be joining the BBd Affiliated group of companies and look forward to further growth in Opti-Forms' business."
Brent Costello, FOCUS Managing Director, noted, "This was a complex transaction. We were blessed with a great client that has built a superior business. We are proud to have had the opportunity to be of service to this great company and its team of employees."
About FOCUS Investment Banking LLC
With more than three decades of experience, FOCUS Investment Banking is a trusted name in M&A advisory services worldwide.  FOCUS works to understand each client's strategic and financial objectives, craft the best plan to achieve these goals, and deliver success.  Whether helping to sell, buy, or raise capital, FOCUS strives to maximize the value of every transaction to the benefit of its clients. Securities transactions conducted by FOCUS Securities LLC, an affiliated company, registered Broker Dealer member FINRA/SIPC. For more information on FOCUS, visit www.focusbankers.com.