FOCUS Investment Banking Represents Nelson Worldwide in Obtaining Growth Financing from NewSpring Mezzanine Capital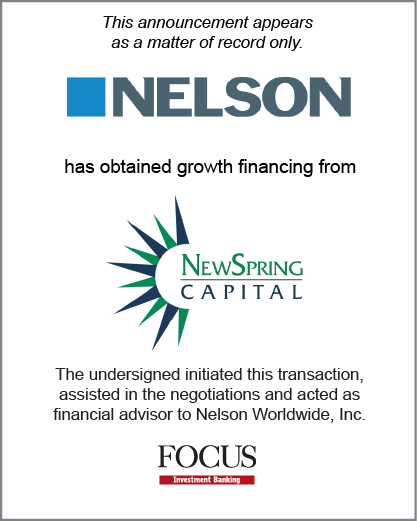 Atlanta, GA (January 13, 2017) – FOCUS Investment Banking, a national middle market investment banking firm providing merger, acquisition, divestiture and corporate finance services, announced today that NELSON (Nelson Worldwide, Inc.) has obtained growth capital financing from NewSpring Mezzanine Capital. FOCUS represented Nelson in this transaction.
NELSON is a global architecture, design, engineering and consulting services firm. With nearly 650 personnel in 22 locations around the world.  NELSON has working relationships with more than 20 percent of the Fortune 100 companies.
NewSpring Mezzanine Capital is a Small Business Investment Company partnering with business owners and financial sponsors to support growth, acquisitions and recapitalizations by providing capital solutions with mezzanine financing. NewSpring tailors financial solutions to a business to meet its long-term strategic goals.
John ("Ozzie') Nelson, Jr., Chairman and CEO, stated, "NELSON has been on an explosive growth trajectory since 2014.  Partnering with NewSpring provides us the capital base to continue to enhance our market position and execute our growth strategy.  We very much appreciate the guidance FOCUS provided us in this critical step to achieving our goal of being a premier architectural, design, engineering and consulting firm."
Tony Manuelli, CFO of NELSON, commented, "We thoroughly enjoyed working with NewSpring and FOCUS to bring this transaction to fruition.  It is a pleasure working with these highly professional organizations."
Added Bob Beard, FOCUS Managing Director, "FOCUS was honored to assist these two highly professional organizations in completing this transaction and feels NELSON and NewSpring are a great partnership, providing NELSON with access to the growth capital needed to execute its business plan."
Jonathan Wilfong, FOCUS Managing Partner Southeast commented, "It was a pleasure dealing with these quality organizations and working with them to structure a mutually beneficial transaction."
*These testimonials may not be representative of the experience of all clients; testimonials are not a guarantee of future performance or success.
About FOCUS Investment Banking
With more than three decades of experience, FOCUS Investment Banking is a trusted name in M&A advisory services worldwide. FOCUS works to understand each client's strategic and financial objectives, craft the best plan to achieve these goals, and deliver success. Whether helping to sell, buy, or raise capital, FOCUS strives to maximize the value of every transaction to the benefit of its clients. Securities transactions conducted by FOCUS Securities LLC, an affiliated company, registered Broker Dealer member FINRA/SIPC. For more information on FOCUS, visit www.focusbankers.com.