FOCUS Investment Banking Represents ncgCARE in its Purchase of Grace Harbour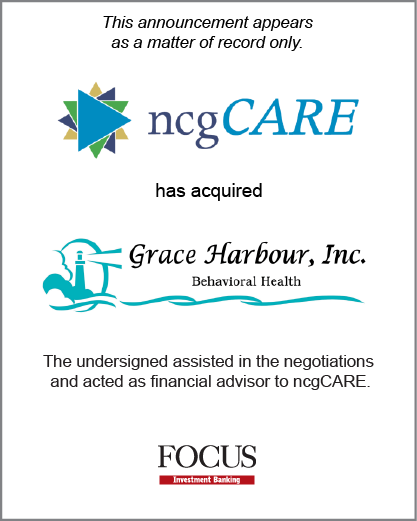 Atlanta, GA, (March 26, 2018) – FOCUS Investment Banking, a national middle market investment banking firm providing merger, acquisition, divestiture, and corporate finance services, announced today that ncgCARE has acquired Grace Harbour. FOCUS represented ncgCARE in this transaction.
ncgCARE is a national network of provider partners in behavioral healthcare. With over 900 employees across multiple partner companies, ncgCARE has provided behavior health services for over 40,000 individuals and families. The ncgCARE partner network includes National Counseling Group, Grace Harbour, Avenue to Wellness and Envision Counseling.
Grace Harbour, located in Peachtree City, Georgia provides a comprehensive range of behavioral health services, evidence-based treatments and training programs serving over twenty-three counties operating out of seven office locations. Grace Harbour is accredited by the Commission on Accreditation of Rehabilitation Facilities, which demonstrates its continuous commitment to providing superior outpatient mental health and substance abuse treatment services to children, adolescents and adults.
Frank Viera, President and CEO of ncgCARE, commented, "We are thrilled to have the Grace Harbour team join the expanding ncgCARE network. Both organizations have a strong commitment to high quality, evidence-based treatment that makes this acquisition a natural fit for our company. We look forward to bringing our passion for excellence in behavioral healthcare to Georgia. FOCUS was a valuable member of our team and was instrumental in helping us complete this transaction."
Added Jonathan Wilfong, FOCUS Partner, "Grace Harbour fit all the criteria we established with ncgCARE for its first acquisition in Georgia. We are proud to be a part of the ongoing professionalization of mental health services by helping providers achieve scale and financial strength to enhance best practices and improve outcomes." We enjoyed working with both of these high-quality organizations to close the transaction on schedule."
*These testimonials may not be representative of the experience of all clients; testimonials are not a guarantee of future performance or success.
About FOCUS Investment Banking LLC
With more than three decades of experience, FOCUS Investment Banking is a trusted name in M&A advisory services worldwide. FOCUS works to understand each client's strategic and financial objectives, craft the best plan to achieve these goals, and deliver success. Whether helping to sell, buy, or raise capital, FOCUS strives to maximize the value of every transaction to the benefit of its clients. Securities transactions conducted by FOCUS Securities LLC, an affiliated company, registered Broker Dealer member FINRA/SIPC. For more information on FOCUS and its Healthcare practice, please visit www.focusbankers.com/healthcare.