FOCUS Investment Banking Represents Exhibitor Labs in its Acquisition by Straight Arrow Products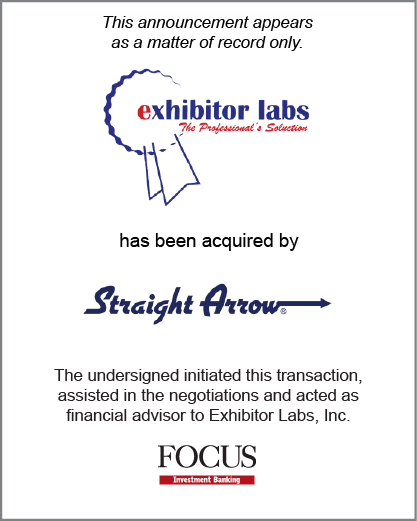 Washington, DC (September 22, 2017) – FOCUS Investment Banking, a national middle market investment banking firm providing merger, acquisition, divestiture and corporate finance services announced today that Exhibitor Labs has been acquired by Straight Arrow Products.  FOCUS represented Exhibitor Labs in the transaction.
For more than 30 years, Exhibitor Labs has blended a scientific background with a passion for animals, and the people who love them. Their scientific expertise led to the development of an award winning line of beauty and health products for horse owners and exhibitors and has made them the premier source for coat, mane and tail products for show horses.

Straight Arrow Products, Inc., for forty years has been providing exclusive hair and skin care products renowned for their quality and performance in both the equestrian and human markets.
Nancy Faries, owner of Exhibitor Labs explains: "After my husband, Cy Faries, died earlier this year, I wanted to find a new home for the Exhibitor Labs product line with a team that would appreciate the uniqueness of the equine product line developed by my husband. Straight Arrow was a great fit because of their passion for providing the equine industry great products. FOCUS Investment Banking helped me understand the complexity of selling a company and guided me through the process to a completed transaction"
According to John Bradshaw, FOCUS Partner, "Straight Arrow is the perfect buyer for Exhibitor Labs because of their desire to significantly grow the Exhibitor Labs product line and customer base.
*These testimonials may not be representative of the experience of all clients; testimonials are not a guarantee of future performance or success.
About FOCUS Investment Banking LLC
With more than three decades of experience, FOCUS Investment Banking is a trusted name in M&A advisory services worldwide.  FOCUS works to understand each client's strategic and financial objectives, craft the best plan to achieve these goals, and deliver success.  Whether helping to sell, buy, or raise capital, FOCUS strives to maximize the value of every transaction to the benefit of its clients. Securities transactions conducted by FOCUS Securities LLC, an affiliated company, registered Broker Dealer member FINRA/SIPC. For more information on FOCUS, visit www.focusbankers.com.