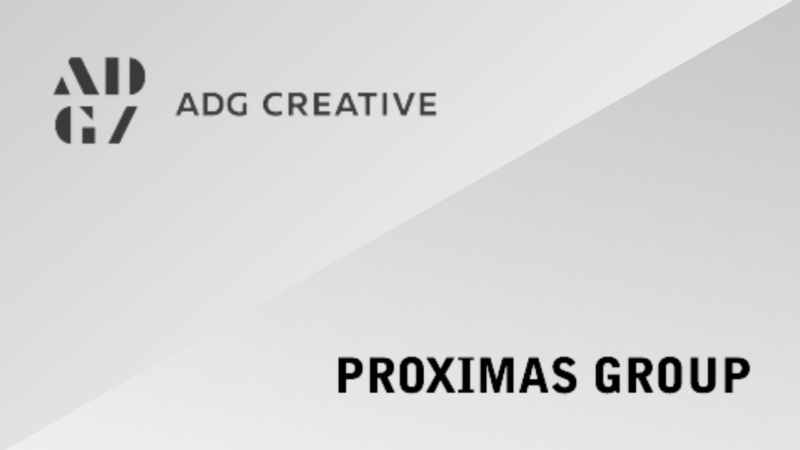 FOCUS Investment Banking Represents Chenega Corp. in sale of ADG Creative to Proximas Group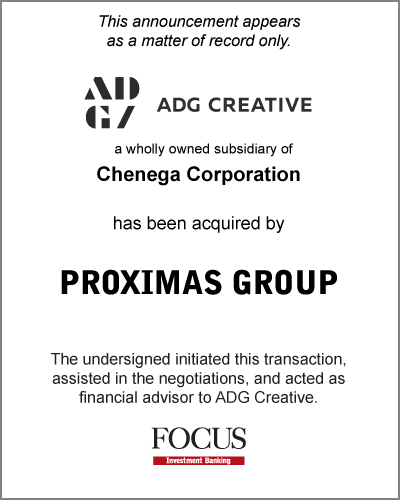 Washington, DC, (April 5, 2021) – FOCUS Investment Banking ("FOCUS"), a national middle market investment banking firm providing merger, acquisition, divestiture and corporate finance services, announced today that Chenega Corporation, an Alaska Native corporation, has sold ADG Creative LLC, a Columbia, Maryland-based strategic communications and creative services firm, to Proximas Group, a family of companies that serves the U.S. defense industry. FOCUS represented Chenega in this transaction.
ADG will continue to serve its federal and commercial clients out of its Columbia location, operating as a wholly-owned subsidiary of Proximas.
"Our primary market is here in the Baltimore-Washington region, whether the Department of Defense, federal or commercial sector," said Evan Davis, President of ADG. "This new arrangement allows us to expand our reach in these markets, access new contracts, partnerships and networks, and deliver more robust solutions through our combined capabilities."
"We serve many of the same customers and markets as ADG," said Proximas Group CEO Christopher Young. "Their creative, digital and user experience expertise are a powerful addition to our core capabilities and will expand and enhance the solutions we can offer and deliver to our customers."
"Federal agencies are embracing the digital wave at an accelerated pace. ADG's specialized capabilities and work in the national intelligence sector will greatly augment Proximas' portfolio of offerings," said Manan Shah, Government, Aerospace and Defense Team Co-Leader at FOCUS.
"We are pleased in finding a new home for ADG that supports the company's growth objectives and is complementary to its core business," added Eric Oganesoff, Member of the Government, Aerospace and Defense Team at FOCUS.
About Chenega Corporation
Chenega Corp. is an Alaska Native corporation established pursuant to the Alaska Native Claims Settlement Act of 1971. Chenega has the dual mission of succeeding in business to assist its shareholders, descendants and family members in their journey to economic and social self-determination and self-sufficiency and to create and support comprehensive cultural, societal and community activities. For more information visit https://www.chenega.com/.
About ADG
ADG Creative, LLC is a leading strategic communications firm providing business-focused creative solutions for government agencies and commercial entities. The firm's capabilities center around branding, digital, design, video, and content & social media marketing. Headquartered in Columbia, MD, ADG has been in business since 1991 and employs more than 30 "Creatives." For more information, visit https://adgcreative.net/.
About Proximas Group
Proximas Group is a family of companies serving the U.S. Intelligence Community, Department of Defense, and commercial marketplace. Its companies specialize in software engineering, cybersecurity, mobile and linguistics solutions. For more information, visit http://www.proximasgroup.com.
About FOCUS Investment Banking
With more than three decades of experience, FOCUS Investment Banking is a trusted name in middle market M&A advisory services worldwide. Whether helping to sell, buy, or raise capital, FOCUS strives to maximize the value of every transaction for the benefit of its clients. Securities transactions conducted by FOCUS Securities LLC, an affiliated company, registered Broker Dealer member FINRA/SIPC. For more information, visit www.focusbankers.com.
*These testimonials may not be representative of the experience of all clients; testimonials are not a guarantee of future performance or success.