FOCUS Investment Banking Represents Amadeus Consulting, LLC in its Acquisition by Exadel, Inc.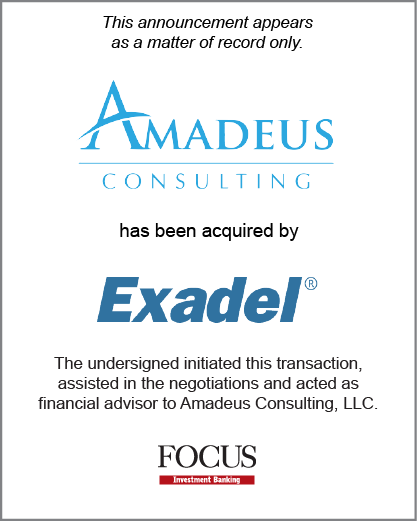 Washington, DC (October 28, 2016) – FOCUS Investment Banking, a national middle market investment banking firm providing merger, acquisition, divestiture and corporate finance services announced today that Amadeus Consulting, LLC has been acquired by Exadel, Inc.  FOCUS represented Amadeus in the transaction.
Amadeus Consulting provides software strategy and development services for organizations looking to drive business growth through integrated technical solutions. The firm assists customers with understanding and underlining complexities and interplay of enterprise, mobile and digital applications to uncover new business opportunities and gain a competitive advantage.
Exadel Inc. is a software engineering company that offers custom development services with R&D centers in North America and Eastern Europe. Unlike traditional IT outsourcers, Exadel offers the specialized skills and product development culture required to meet the needs of the most innovative enterprises.
"For close to 20 years, both Exadel and Amadeus have passionately helped organizations build and deploy 'game-changing' applications that disrupt or create entire markets, from financial services and healthcare to Fortune 500 enterprises and startups," said Lisa Calkins, CEO of Amadeus Consulting. "FOCUS understood our strategic growth plans and wish to expand our service offerings to our clients. With their help, we are excited to join forces with Exadel."
The merger enables two software services leaders to deliver a premier, "boutique-like" customer experience utilizing local and global engineering teams of approximately 1,000 employees.
According to Manan Shah, FOCUS Partner and Technology Team Co-Leader, "Amadeus and Exadel have independently built very successful businesses as high-quality providers of software services. We are pleased to have facilitated this transaction."
George Shea, FOCUS Partner and Technology Team Leader, added, " We are pleased to have found a superb fit for our client with Exadel. This is a winning combination that will greatly expand each party's footprint and capabilities."
*These testimonials may not be representative of the experience of all clients; testimonials are not a guarantee of future performance or success.
About FOCUS Investment Banking LLC
With more than three decades of experience, FOCUS Investment Banking is a trusted name in M&A advisory services worldwide.  FOCUS works to understand each client's strategic and financial objectives, craft the best plan to achieve these goals, and deliver success.  Whether helping to sell, buy, or raise capital, FOCUS strives to maximize the value of every transaction to the benefit of its clients. Securities transactions conducted by FOCUS Securities LLC, an affiliated company, registered Broker Dealer member FINRA/SIPC. For more information on FOCUS, visit www.focusbankers.com/technology.