FOCUS Investment Banking Represents ADDvantage Technologies in the Purchase of Nave Communications And Completes Another Telecom Industry Transaction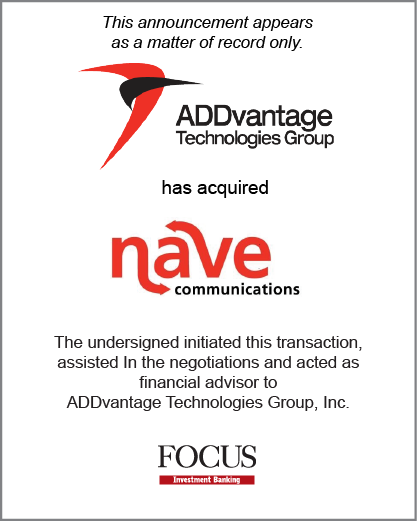 Washington, DC, (March 3, 2014) – FOCUS Investment Banking, a national middle market investment banking firm providing merger, acquisition, divestiture and corporate finance services, announced today that ADDvantage Technologies has acquired Nave Communications. FOCUS represented ADDvantage Technologies in the transaction.
ADDvantage Technologies supplies the cable television industry with a comprehensive line of new and used system-critical network equipment and hardware from leading manufacturers and also operates a national network of technical repair centers. The equipment and hardware that ADDvantage Technologies distributes is used to acquire, distribute, and protect the broad range of communications signals carried on fiber optic, coaxial cable and wireless distribution systems, including television programming, high-speed data (Internet) and telephony.
David Humphrey, President and CEO of ADDvantage Technologies, stated "Nave Communications has a robust telecommunications equipment business that will increase our revenue stream and offer new growth opportunities, complementing our cable television equipment business. Nave Communications has demonstrated the ability to increase sales and sustain profitability, important factors we considered when evaluating their business and management team. This is an exciting milestone in our Company's history as we expand our reach within the telecommunications industry and take advantage of the growth prospects that lie ahead."
Nave Communications provides quality used telecommunications networking equipment to customers worldwide. In addition, Nave Communications offers its customers decommissioning services for surplus and obsolete equipment, which Nave Communications in turn processes through its recycling services. Nave Communications will do business as a standalone division of ADDvantage Technologies Group, with founder Doug Nave named President of the division.
Rich Pierce, a Managing Director at FOCUS and leader of the Telecommunications Technology and Services Team, comments, "The acquisition of Nave Communications extends ADDvantage Technologies' expertise in refurbished network equipment from the cable industry into telecommunications. As both cable and telecommunications operators seek to stretch their network investment dollars, ADDvantage Technologies is well positioned to provide both industries with high quality, cost-effective solutions. We were delighted to play a role in bringing these two highly complementary companies together."
*These testimonials may not be representative of the experience of all clients; testimonials are not a guarantee of future performance or success.
About FOCUS LLC
FOCUS Investment Banking provides a range of middle market investment banking services with an emphasis on mergers, acquisitions, divestitures and corporate finance. FOCUS is a national firm with a global footprint, serving clients from offices in major cities across the United States. FOCUS specializes in serving clients with transaction size or revenues in the $5-300 million range, representing entrepreneurs, corporate owners and various types of investors across a broad range of industries, throughout the U.S. and worldwide. FOCUS bankers are seasoned operating and financial executives with extensive transaction experience. Securities transactions conducted by FOCUS Securities LLC, an affiliated company, registered Broker Dealer member FINRA/SIPC. For more information on FOCUS and its Information Technology practice, visit focusbankers.com/technology.