FOCUS Investment Banking Represents ADDvantage in Acquisition
Buy Side M&A Investment Banking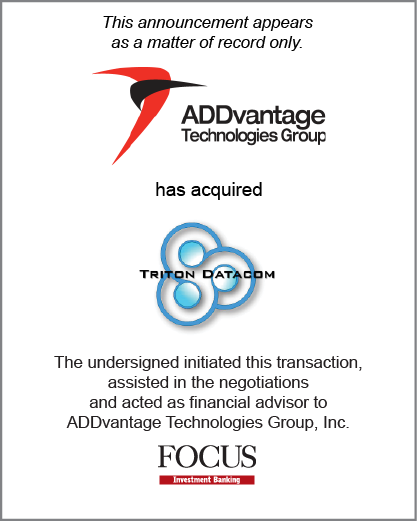 Washington, DC (October 20, 2016) – FOCUS Investment Banking, a national middle market investment banking firm providing merger, acquisition, divestiture and corporate finance services announced today that ADDvantage Technologies Group, Inc. has acquired the assets of Triton Miami, Inc. (D/B/A "Triton Datacom").  FOCUS represented ADDvantage Technologies in the transaction.
ADDvantage Technologies supplies the cable television and telecommunications industries with a comprehensive line of new and used system-critical network equipment and hardware from leading manufacturers. The equipment and hardware ADDvantage distributes is used to acquire, distribute, and protect the communications signals carried on fiber optic, coaxial cable and wireless distribution systems, including television programming, high-speed data (Internet) and telephony. In addition, ADDvantage operates a national network of technical repair centers focused primarily on Cable TV equipment and recycles surplus and obsolete Cable TV and telecommunications equipment.
Triton is a leading provider of new and refurbished enterprise networking products, including desktop phones, enterprise switches and wireless routers. They primarily sell their products to brokers and end-users across the U.S. through a dedicated sales force and e-commerce program.
David Humphrey, President and CEO of ADDvantage Technologies, stated "With a diverse customer base and broad line of product offerings, Triton has established a highly profitable business.  We see many areas where our two businesses overlap or are complementary in nature, making this a highly attractive acquisition for ADDvantage."
Rich Pierce, a Managing Director at FOCUS and Telecommunications Team Leader comments, "The acquisition of Triton further diversifies ADDvantage Technologies into the market for enterprise-class communications equipment.  This is the second time we have advised ADDvantage Technologies on the buy-side, and the acquisition of Triton demonstrates their commitment to a growth-by-acquisition strategy.  We were delighted to play a role in bringing these two highly complementary companies together."
*These testimonials may not be representative of the experience of all clients; testimonials are not a guarantee of future performance or success.
About FOCUS Investment Banking LLC
With more than three decades of experience, FOCUS Investment Banking is a trusted name in M&A advisory services worldwide.  FOCUS works to understand each client's strategic and financial objectives, craft the best plan to achieve these goals, and deliver success.  Whether helping to sell, buy, or raise capital, FOCUS strives to maximize the value of every transaction to the benefit of its clients. Securities transactions conducted by FOCUS Securities LLC, an affiliated company, registered Broker Dealer member FINRA/SIPC. For more information on FOCUS, visit www.focusbankers.com.