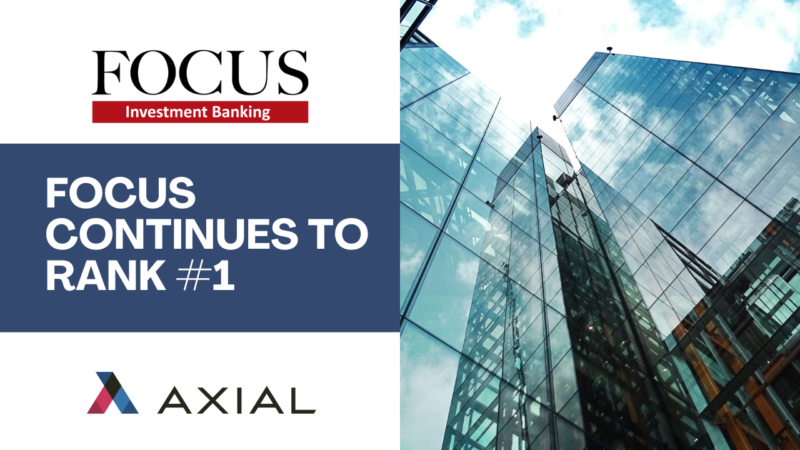 FOCUS Investment Banking continues to rank #1 in Axial's Top 20 Lower Middle Market Investment Banks for 4Q 2021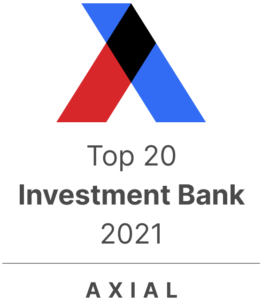 Washington, DC, (January 21, 2022) – FOCUS Investment Banking ("FOCUS"), a leading national middle market investment banking firm providing merger, acquisition, divestiture, and corporate finance services, is delighted to be acknowledged as #1 on Axial's Top Lower Middle Market M&A Advisors list for Q4 2021. This marks the second consecutive quarter the firm has received this recognition.
Axial is the trusted deal platform serving the lower middle market ($5 million to $250 million). Over 3,500 advisory firms and 1,800 corporate and financial buyers have joined Axial to efficiently connect with relevant capital partners, source actionable deals, and build new relationships. Axial is the largest platform on the internet for buying, selling, advising, and financing private companies. Over the last 10 years, Axial has established a single, well- known platform that business owners and deal professionals trust to discover and connect with new transaction partners.
Axial's investment banking league tables rank sell-side M&A advisors based on their Axial activity, incorporating three core M&A advisory attributes: client quality, buy-side targeting and deal process effectiveness. A total of 821 investment banks brought deals to market using Axial in the fourth quarter.
"FOCUS is pleased to be named the #1 Lower Middle Market Investment Bank by Axial for the second consecutive quarter," said Kahla Cooper, FOCUS Director of Marketing. "2021 was a highly successful year for us. We pride ourselves on the level of support we provide our clients. Axial's robust technology platform and their large member network help us achieve both our financial and client service goals. We look forward to continuing our relationship with Axial to further support our clients and their network."
"During the past year we added more great people and industry sector expertise to our already talented team," FOCUS CEO Rick Thomas said. "It's great to see those efforts reflected in this recognition by Axial. We are looking forward to another successful year and are large proponents of Axial and their extensive network."
About FOCUS Investment Banking
With more than three decades of experience, FOCUS Investment Banking is a trusted name in middle market M&A advisory services worldwide. Whether helping to sell, buy, or raise capital, FOCUS strives to maximize the value of every transaction for the benefit of its clients. Securities transactions conducted by FOCUS Securities LLC, an affiliated company, registered Broker Dealer member FINRA/SIPC. For more information, visit www.focusbankers.com.