FOCUS Investment Banking and Commenda Capital Represent Donnelly Communications in its Affiliation with Support Services Group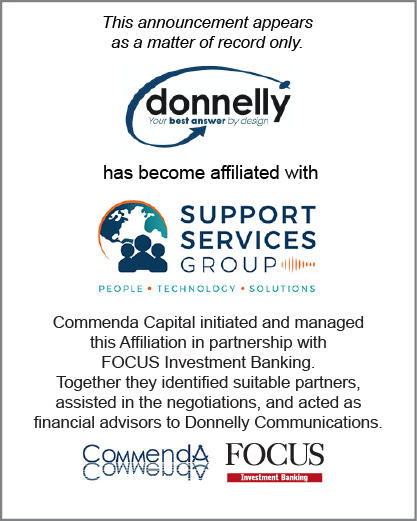 Washington, DC (December 15, 2017) – FOCUS Investment Banking and Commenda Capital announced today that Donnelly Communications has become affiliated with Support Services Group (S2G).  Commenda Capital originated the transaction and partnered with FOCUS because of its unique expertise in the customer support services industry.  Together they represented Donnelly Communications in this new partnership.  FOCUS Investment Banking is a national middle market investment banking firm providing merger, acquisition, divestiture and corporate finance services.  Commenda Capital is a merchant bank committed to providing creative, tailored strategic and financial solutions to growing companies.
Donnelly Communications was founded in 1981 and is headquartered in Atlanta, Georgia. It is a leading provider of contact center services for prominent companies across multiple industries including multichannel retail, restaurant, energy and utilities.  Their innovative solutions focus on increasing revenue by exceeding customer expectations and driving brand loyalty.
Support Services Group, was founded in 1998, is headquartered in Waco, Texas.  Support Services Group is a leading provider of various types of consumer support services including IT support, help desk services, customer service, support of e-commerce and retail sales, RMA management, restaurant and automotive customer service, utility support, B2B/B2C sales, chat and e-mail support, knowledgebase management and more.
John Bradshaw, FOCUS Partner, believes that "Support Services Group will be a great partner for Donnelly Communications because it enables the companies to collaborate in serving clients across a broader array of industry sectors with multiple operating locations in the US and Canada."
John Runningen, a founder of Commenda and its Managing Member, adds, "Donnelly was looking for a partner to help both organizations grow significantly in a very competitive market. We believe that Support Services Group will be the great strategic partner Donnelly was looking for."
*These testimonials may not be representative of the experience of all clients; testimonials are not a guarantee of future performance or success.
About FOCUS Investment Banking LLC
With more than three decades of experience, FOCUS Investment Banking is a trusted name in M&A advisory services worldwide.  FOCUS works to understand each client's strategic and financial objectives, craft the best plan to achieve these goals, and deliver success.  Whether helping to sell, buy, or raise capital, FOCUS strives to maximize the value of every transaction to the benefit of its clients.  Securities transactions conducted by FOCUS Securities LLC, an affiliated company, registered Broker Dealer member FINRA/SIPC. For more information on FOCUS, please visit www.focusbankers.com
About Commenda Capital
As a Merchant Bank, Commenda can provide capital for growing companies, but what distinguishes the firm is everything else their team can bring to the table.  Commenda provides capital PLUS strategic and operational support to optimize the value of their client companies for all stakeholders, including customers, employees and shareholders alike.  Commenda brings its unique strategic expertise to get transactions done because capital alone is never enough.  Securities transactions are conducted by Commenda Securities LLC, an affiliated company, registered Broker Dealer member FINRA/SIPC. For more information on COMMENDA, please visit www.CommendaCapital.com