FOCUS Investment Banking Advises Leading Global Adhesives Manufacturer in the Sale of Two Product Lines to Chase Corporation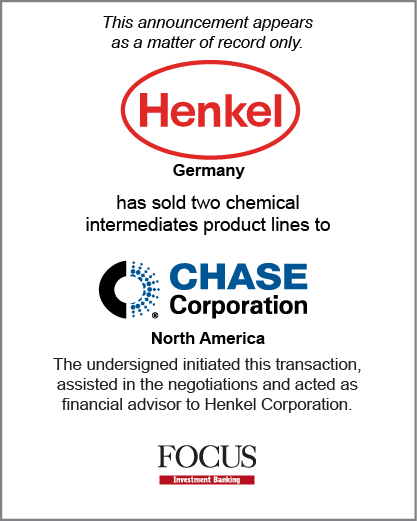 Washington, DC (February 2, 2015) – FOCUS Investment Banking, a national middle market investment banking firm providing merger, acquisition, divestiture and corporate finance services announced today that two product lines from Henkel Corporation were acquired by Chase Corporation (NYSE: CCF).  FOCUS represented Henkel in the transaction.
Henkel Corporation, with North American Operations headquartered in Rocky Hill, CT, is a leading global manufacturer of adhesives.  Chase Corporation, founded in 1946, is a leading manufacturer of protective materials for high reliability applications throughout the world.
As part of this transaction, Chase acquired Henkel's Microspheres business, sold under the Dualite ® brand, located in Greenville, SC, as well as obtaining certain exclusive distribution rights and intellectual property related to Henkel's Polyurethane Dispersions Intermediates business, located in Elgin, IL. The businesses were acquired for a purchase price of $33.3 million, excluding any working capital adjustments and acquisition related costs. The purchase was funded entirely with available cash on hand.
Gerald Turner, FOCUS Managing Director comments, "The transaction drew wide interest from a number of interested acquirers, and we believe Henkel and Chase will both be well served by this important milestone."
Doug Rodgers, "FOCUS CEO adds, "This transaction is a clear example of high quality specialty chem business lines moving from one strategic owner to another.  Transactions like this can often be quite successful, creating value for both parties."