FOCUS Investment Banking Advises Fintech Ventures Fund in Providing an Equity Investment to GROUNDFLOOR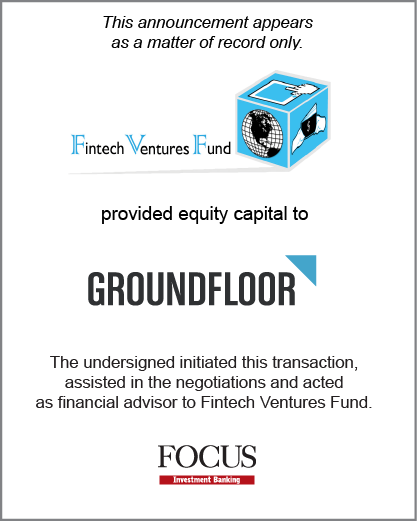 Atlanta, GA (January 26, 2016) – FOCUS Investment Banking LLC, a national middle market investment banking firm providing merger, acquisition, divestiture and corporate finance services, announced today that Fintech Venture Fund provided an equity capital investment to GROUNDFLOOR. FOCUS represented Fintech Venture Fund in this transaction.
Fintech Ventures Fund, based in Atlanta, Georgia, is a new early stage $100 million venture capital investment fund focused on providing equity to emerging leaders and promising companies that are developing innovative, non-banking lending/savings products and smart payment solutions. Their mission is to build strategic partnerships with entrepreneurs and provide them with the resources and support they need to build great businesses.
GROUNDFLOOR, also located in Atlanta, Georgia, is the first and only real estate lending marketplace open to non-accredited investors. They open the door to short-term, high yield returns backed by real estate.  The new capital will support new lending operations in strategic regions, develop new investor tools and continue advancing GROUNDFLOOR's innovative regulatory roadmap for the benefit of all self-directed investors.
Sergei Kouzmine, Fintech's Managing Director, noted, "We were pleased to lead the Series A investment round of GROUNDFLOOR so that they can scale their operations and fuel nationwide expansion. We are satisfied with what the founders have accomplished so far. It is now time to replicate their success in Georgia nationwide. FOCUS did a superb job helping us communicate with founders and understand the business model and its challenges and opportunities."
Randall Foster, FOCUS Managing Director, commented, "Sergei has an excellent perspective and understanding of the alternative finance industry and its strategic direction."  Jonathan Wilfong, FOCUS Partner, added, "We were pleased to advise Fintech Fund in its first investment and look forward to working with the Fund in the years ahead."
*These testimonials may not be representative of the experience of all clients; testimonials are not a guarantee of future performance or success.
About FOCUS Investment Banking LLC
FOCUS Investment Banking LLC provides a range of middle market investment banking services with an emphasis on mergers, acquisitions, divestitures and corporate finance.  FOCUS, a national firm serving clients from offices in major cities across the U.S., specializes in business units with transactions or revenues in the $5-300 million range, serving entrepreneurs, corporate owners and various types of investors across a broad range of industries both domestically and worldwide. FOCUS bankers are seasoned operating and financial executives with extensive transaction experience.  Securities transactions conducted by FOCUS Securities LLC, an affiliated company, registered Broker Dealer member FINRA/SIPC.  For more information, visit www.focusbankers.com.