FOCUS Investment Banking Represents Information Security Solutions In Its Acquisition by Assured Information Security, Inc.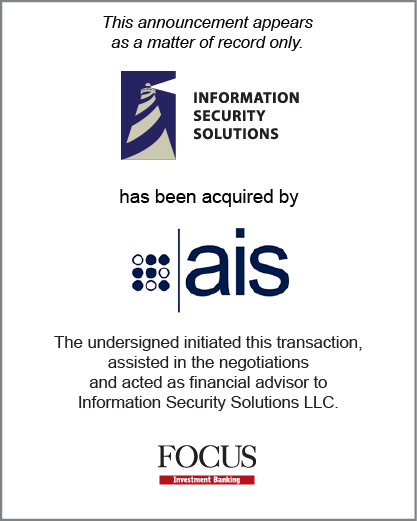 Washington, DC (April 16, 2015) – FOCUS Investment Banking, a national middle market investment banking firm providing merger, acquisition, divestiture and corporate finance services announced today that Information Security Solutions (ISS) has been acquired by Assured Information Security, Inc. FOCUS represented ISS in the transaction.
Information Security Solutions, a Washington, DC area based technology firm, is a leading provider of expert cyber security consulting services, having highly specialized expertise in the areas of cyber security, information technology security and cyber intelligence analysis.  ISS has established itself within very challenging markets, having employees in greater Baltimore area, Northern Virginia, Georgia and San Antonio, Texas.
AIS's acquisition of ISS advances its mission to being a nationally recognized leading provider of generation-after-next cyber capabilities to the US DoD and Intelligence Community.    The combination of the two firms now places AIS personnel in 10 States nationwide.
AIS was founded in Rome, NY in 2001 to perform research in computer network security and related technical challenges.  Over the past fourteen years, AIS has extensively expanded its technology portfolio and customer base, and has repeatedly demonstrated successes in the rapid development of unique software capabilities that enable effective and controlled use of cyber to achieve national objectives. AIS employs over 150 scientists, engineers, and technical managers addressing the DoD's computer network and cyber-security requirements. AIS is currently executing over $35M annually in Research & Development contracts.
Manan Shah, FOCUS Partner and Government, Aerospace & Defense Team Leader, comments, "The acquisition of ISS will benefit AIS' existing customer base by doubling their presence in the National Capitol Region and allowing AIS to be more responsive and able to offer a broader perspective on technology solutions.  Additionally, by having a significant presence within a very tightly held market, AIS has positioned itself to help accelerate the pace of technology development and transition to all customers."
*These testimonials may not be representative of the experience of all clients; testimonials are not a guarantee of future performance or success.
ABOUT FOCUS LLC
FOCUS Investment Banking LLC provides a range of middle market investment banking services with an emphasis on mergers, acquisitions, divestitures, and corporate finance. FOCUS, a national firm serving clients from offices in major cities across the U.S., specializes in business units with transactions or revenues in the $5-300 million range, serving entrepreneurs, corporate owners, and various types of investors across a broad range of industries both domestically and worldwide. FOCUS bankers are seasoned operating and financial executives with extensive transaction experience. Securities transactions conducted by FOCUS Securities LLC, an affiliated company, registered Broker Dealer member FINRA/SIPC. For more information, visit www.focusbankers.com/technology.