FOCUS Enterprises, Inc. announces the sale of Dunn Solutions Group to Cranes Software, a software solutions provider headquartered in India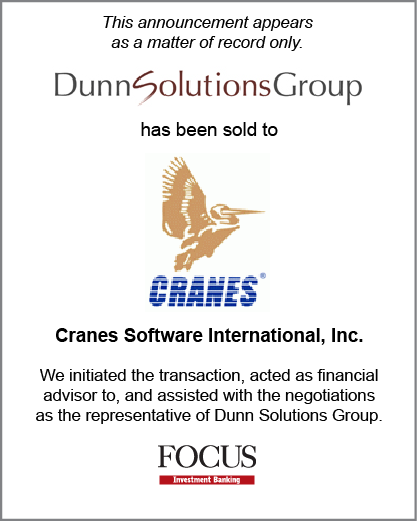 Washington, DC (June 28, 2007) - FOCUS Enterprises, Inc., a national middle market investment banking firm providing merger, acquisition, and corporate finance services announced that it has facilitated the sale of Dunn Solutions Group to Cranes Software. Dunn Solutions Group is a business and technology consultancy specializing in business intelligence, transactional and knowledge solutions. Cranes Software will use the acquisition to leverage Dunn Solutions Group's US domain knowledge in analytics, enterprise project portfolio management, and enterprise applications in verticals such as banking, financial services, insurance, pharmaceutical, health care, education, government, and the non-profit industry.
Cranes Software is a global scientific and engineering software solutions provider headquartered in India. The Managing Director of Cranes Software, Asif Khader, announced the acquisition by saying, "Dunn Solutions has exceptional strategic experience, design skills and technologic expertise. With this acquisition we will have an extremely strong and prominent presence in the high potential US consulting services market. Complemented by Cranes' strong development skills and expertise, the Dunn Solutions Group acquisition will strengthen our capabilities to compete in the $2.6 billion global business intelligence market."
William Dunn, President of Dunn Solutions Group said of the acquisition, "We are excited about the potential to create cross sell opportunities and expand aggressively in the U.S. market. This is a win-win relationship for both companies and I am sure that by working together, we can deliver more value to our customers and achieve greater success."
About Dunn Solutions Group
Dunn Solutions Group is a business and technology consultancy specializing in business intelligence, transactional and knowledge solutions. Headquartered in Skokie, IL with satellite offices in Raleigh, NC and Eagan, MN, DSG has been serving Global 2000 and government clients since 1988 with a consistent focus on delivering effective technology solutions that meet business needs. To each engagement, DSG brings a solid understanding of business strategy and deep technical expertise, complemented by strong partner relationships with leading vendors like Business Objects, Borland, BEA, and Microsoft. More information about Dunn Solutions Group can be found at www.dunnsolutions.com.
About Cranes Software International Limited
Cranes Software is a Global Scientific & Engineering Software Products and Solutions Company. The Company's business interests span Products, Solutions, Services and R & D in future technologies. Cranes Software addresses the Scientific & Engineering software related needs of large multinational companies, governments, defense establishments, educational and research institutions. Today, Cranes Software has its presence in 38 countries across the world and has a 350,000 strong global user base. Cranes Software offers a range of proprietary products – NISA, SYSTAT, SigmaPlot, SigmaStat, SigmaScan, TableCurve 2D, TableCurve 3D, PeakFit, AnalytiX, iCapella, Alerts, InventX and world-renowned products from reputed principals such as Engineering Technology Associates (ETA), LSTC, The Mathworks, Texas Instruments and IBM. With a mission statement to provide its customers the best in scientific technology and to enable its customers to define new limits, Cranes Software is setting new standards in the scientific and engineering field. For further information on the company, its products and services please log on to www.cranessoftware.com.
About FOCUS Enterprises, Inc.
FOCUS Enterprises, Inc., founded in 1982 in Washington, DC, provides a range of investment banking services tailored to the needs of middle market businesses. Today the firm serves clients from offices in major cities across the United States and worldwide. FOCUS is increasingly involved in trans-border transactions on behalf of its clients. FOCUS specializes in transactions for entities with up to $300 million in revenues, serving entrepreneurs, corporate owners, and investors across a broad range of industries. With many completed transactions in this industry, IT solutions, services and staffing is a major vertical where FOCUS partners have broad operating and deal experience. FOCUS has 26 investment banking professionals in its four offices in Atlanta, Chicago, San Francisco, and Washington, DC advising existing customers globally. FOCUS securities transactions are cleared through Wm H. Murphy Co. affiliated FINRA broker dealer. For more information on FOCUS Enterprises, visit their web site at www.focusbankers.com.