FOCUS Enterprises, Inc. announces the purchase of Benefits Marketing Solutions by Alliance HealthCard, a public company headquartered in Atlanta.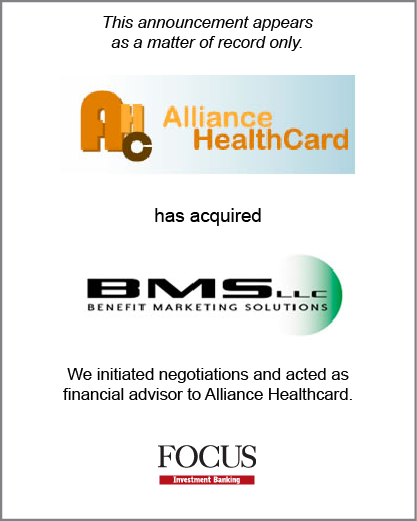 Washington, DC (May 9, 2007) - FOCUS Enterprises, Inc., a national middle market investment banking firm providing merger, acquisition, and corporate finance services announced that it has facilitated the purchase of Benefits Marketing Solutions (BMS), one of the largest benefits discount card companies in the industry, by Alliance HealthCard, Inc. (OTCBB: ALHC.ob). Alliance, a licensed discount medical provider organization (DMPO) that provides individuals with discounted pharmacy, medical, dental, hospital, vision, and various other healthcare benefits has a network of over 500,000 provider locations throughout the United States.
After the acquisition the company will have in excess of 2,000,000 members and revenues of approximately $18,000,000. Robert Garces, chairman of Alliance, was quoted as saying, "With the increased size of Alliance it will be able to broaden its product offerings, enhance its already superior quality medical services and provide even greater value to its members and medical providers."
BMS presently provides services similar to Alliance to over 400,000 members. Danny Wright, CEO of BMS who became CEO of Alliance upon consummation of the transaction, said "once the acquisition is completed there will be numerous areas to capitalize on operational and network synergies that will provide greater value for our customers and shareholders. I look forward to the challenge and opportunity of making Alliance the premier medical benefit discount card company in the nation".
About Alliance Healthcard, Inc.
Alliance HealthCard, Inc. creates, markets, and distributes healthcare savings programs on an individual basis through retail pharmacies, insurance companies, large employers and associations. Alliance offers programs that are custom designed for its customers that offer services that are not typically offered or covered by traditional healthcare plans and also provides discounts for those without medical coverage.
About FOCUS Enterprises, Inc.
FOCUS Enterprises, Inc., founded in 1982 in Washington, DC, provides a range of investment banking services tailored to the needs of middle market businesses. Today the firm serves clients from offices in major cities across the United States and worldwide. FOCUS specializes in transactions for entities with up to $300 million in revenues, serving entrepreneurs, corporate owners, and investors across a broad range of industries. FOCUS has 24 investment banking professionals in its four offices in Atlanta, Chicago, San Francisco, and Washington, DC advising clients globally. For more information on FOCUS Enterprises, visit their web site at www.focusbankers.com.