FOCUS announces the sale AY Recruiting Solutions to Hobsons, U.S.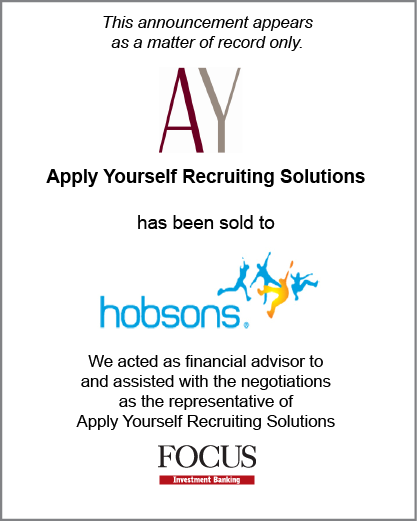 Washington, DC (October 2, 2007) - FOCUS, LLC a national middle market investment banking firm providing merger, acquisition, divestiture and corporate finance services announced today that AY Recruiting Solutions, with headquarters in Fairfax, Virginia, has been acquired by Hobsons U.S., with US headquarters located in Cincinnati, Ohio. FOCUS represented AY Recruiting in the transaction.
AY Recruiting Solutions has been serving the higher education admissions market for fifteen years. For the past eight years, AY has been providing an internet-based student admissions system designed to help subscribing schools more effectively manage recruitment communications and data management workflow applications. Today, more than 300 top colleges and universities use AY's technology and applications to manage their recruitment and admissions process. The Company's products are run in a "software-as-a-service" model. AY Recruiting Solutions is also the exclusive outsourced service provider to Common Application Online, a non-profit consortium of over 300 undergraduate private liberal arts institutions.
Hobsons U.S., a part of the Daily Mail and General Trust, has been serving the higher education market for more than 30 years. The Company partners with colleges and universities to enhance and empower their enrollment and admissions effort. Hobsons U.S. has been operating in the United States since 1994, with business areas including publishing products, multimedia services, enrollment technology, research and events. Hobson has over 1300 college and university clients throughout the world.
"For over 30 years, Hobsons has reached out to students with important and timely information to educate them about their educational path. Hobson's complimentary, strategic objective is to provide the best products and services to our client colleges and universities to assist them in college recruitment and admissions. Our acquisition of AY Recruiting Solutions will keep us on the forefront of that effort" said Craig Heldman, President of Hobsons,U.S.
Len Metheny, President and CEO of AY Recruiting Solutions also commented "With the dramatic growth in our business over the last several years and our recent award of the Common Application Online contract, we determined that we needed to attract a much larger corporate acquisition partner. Hobson, U.S., with its extraordinary reputation in the higher education market is the ideal partner for our company."
About FOCUS, LLC
FOCUS, LLC provides a range of middle market investment banking services across the U.S. with an emphasis on mergers, acquisitions, divestitures and corporate finance. FOCUS is headquartered in Washington, D.C. with regional offices in Atlanta, Chicago and San Francisco. FOCUS specializes in business units with transactions or revenues in the $5-300 million range, serving entrepreneurs, corporate owners and various types of investors across a broad range of industries, throughout the US and worldwide. All FOCUS bankers are seasoned operating and financial executives with extensive transaction experience. Securities transactions are conducted by affiliated FINRA broker dealer, Wm H. Murphy Co. For more information on FOCUS, visit www.focusbankers.com.