FOCUS Announces the Acquisition of SSI Business Solutions, Inc. by Cambridge Systems, Inc.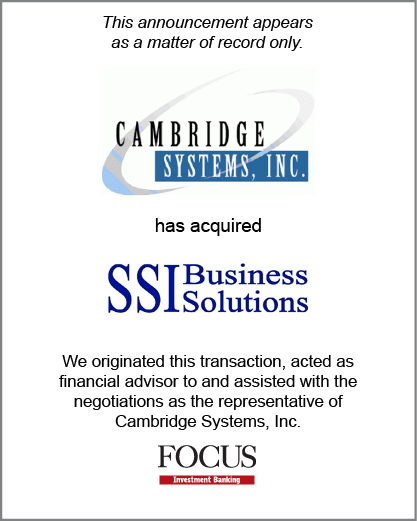 Washington, DC (September 4, 2007) - FOCUS, LLC, a national middle market investment banking firm providing merger, acquisition, and corporate finance services announced that it has facilitated the purchase of SSI Business Solutions, Inc. (SSI) by Cambridge Systems, Inc. (CSI).
SSI is a professional services company offering human capital consulting services to its clients in the professional and administrative specialties. Founded in 1994, SSI primarily serves federal-government agencies. CSI was founded in 1997 as a professional services organization specializing in information systems management and IT support. Since then CSI has diversified in to several areas including procurement of medical equipment, hardware resale and solutions, IT security services, medical transcription and healthcare staffing. CSI continues to pursue strategic growth while offering a wider range of services and solutions to its existing client base.
The acquisition augments CSI's medical and IT services capabilities with SSI's expertise in providing professional accounting, finance, contract support and administrative services.
"We anticipate significant growth in the use of administrative and professional services and have been actively seeking a partner to service that market." said Suresh Doki, CEO and founder of CSI. "SSI has an excellent track record and reputation for providing high-quality service and Cambridge is pleased to offer this new capability to our clients."
SSI's President, Alicia Vicentini noted that, "Joining with Cambridge allows SSI to not only offer an expanded range of services, but also provides more career opportunities for our employees. This is an excellent match."
About FOCUS, LLC
FOCUS, LLC provides a range of middle market investment banking services across the U.S. with an emphasis on mergers, acquisitions, divestitures and corporate finance. FOCUS is headquartered in Washington, D.C. with regional offices in Atlanta, Chicago and San Francisco. FOCUS specializes in business units with transactions or revenues in the $5-300 million range, serving entrepreneurs, corporate owners and various types of investors across a broad range of industries, throughout the US and worldwide. All FOCUS bankers are seasoned operating and financial executives with extensive transaction experience. Securities transactions are conducted by affiliated FINRA broker dealer, Wm H. Murphy Co. For more information on FOCUS, visit www.focusbankers.com.