Five Steps to Crossborder Deal Success*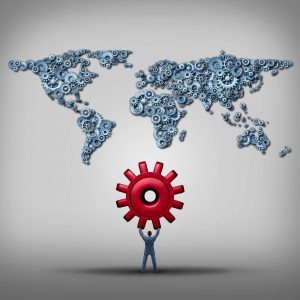 The global economic outlook for 2016 and beyond is highly uncertain. With Q1 deal volume off to a slow start this year, it would seem the various economic and political headwinds have made investors wary about aggressively pursuing cross-border deals in the very short term. However, the general sentiment shows that support for inorganic growth persists in the medium term.
Interconnected global financial markets are, of course, sensitive to short-term shocks but company strategy remains centered on maintaining operational efficiency and enhancing growth by entering new markets and growing the consumer base. Political and economic volatility notwithstanding, cross-border M&A will continue to hinge on individual country propositions and the ease of doing business there.
However, undertaking international M&A is an exercise in balancing risk and reward. On the one hand, expansion into new markets offers the opportunity of tapping new sources of growth, while providing diversification benefits for businesses whose domestic markets may not deliver the returns required.
On the other, new markets bring new challenges and dangers: businesses must pursue deals without falling into traps they may not even know exist and give themselves the best chance of being able to execute on their strategy after completion. There are at least five crucial issues dealmakers will need to address as they seek to maximize their M&A opportunities.
Understand Regional Differences
There are major differences between the opportunities and challenges dealmakers will be confronted by as they move from region to region. The legal and regulatory headaches posed by deals in developing markets, for example, may be less challenging in developed economies, but these regions bring their own problems – economic woes or high valuations, for example.
Accordingly, while companies may have a global mindset, they also need to think regionally. Dealmakers need access to expert advice and experience that delivers on both counts. M&A advisers must be able to provide a global network and culture with consistent standards and practices in markets all around the world. At the same time, they also need to be able to offer boots on the ground in individual territories in order to supply a detailed understanding of regional issues.
Make Time for Due Diligence
The need to devote sufficient time and resources to due diligence is a consistent theme. Almost all of the challenges that threaten the success of a deal identified by respondents – from bribery and corruption issues to problems with IP or technology ownership – have the potential to cause significant damage to companies that uncover them too late.
By contrast, where issues are identified, they can generally be resolved – or, at worst, there is an opportunity to avoid damage by walking away. Cost is naturally a concern for any business conducting a transaction, but beware false economies.
Good due diligence will pay some dividends—the short-term saving that comes from not instructing your advisers to be completely thorough can be outweighed by the financial havoc that a problem not spotted subsequently causes.
Prioritize the Big Issues
While those regional differences are crucial, certain challenges crop up time and again wherever dealmakers are conducting transactions – it almost always makes sense to prioritize these issues. Above all, almost three quarters of respondents to the FT survey (71%) say that where a deal has failed, anti-trust regulation was to blame. More than half picked out two other issues: labor and employment regulations (57%) and environmental regulations (54%).
Against a background of a more challenging global anti-trust environment, businesses and their lawyers are showing more appetite to engage with anti-trust risk in a deal. In particular, the big industry players are very likely to raise complex anti-trust questions. There's an evolution of more sophisticated approaches to navigating through detailed anti-trust reviews as part of the M&A process.
Consider Litigation Risk
Some 73% of FT survey respondents believe litigation risk is increasing in global M&A – but while significant numbers of companies warn this could potentially deter them from doing deals, it is possible to prepare for such risk. Use a multi-disciplinary team of advisers in order to identify the issues most likely to be a trigger for litigation.
Trust Your Instincts
Successful M&A requires nerve and single-mindedness. The slowdown in the Chinese economy, for example, might make for anxious times for businesses with exposure there, yet respondents to this survey see China as more likely than any country other than the US to see the biggest increase in dealmaking in the years ahead – reflecting its long-term potential.
Similarly, while the business press has often trumpeted the idea of convergence, only 17% of respondents are pondering deals beyond their own sectors. Companies that are unable to work through these steps may not enjoy the returns on investment hoped for from their M&A strategies. And, doing so in a global marketplace, where the most pressing issues – and the detailed nature of those issues – varies region by region, country by country, and deal by deal, is not straightforward.
*Based on excerpts from a Spring 2016 report by FT Remark, the research division of the Financial Times (FT).