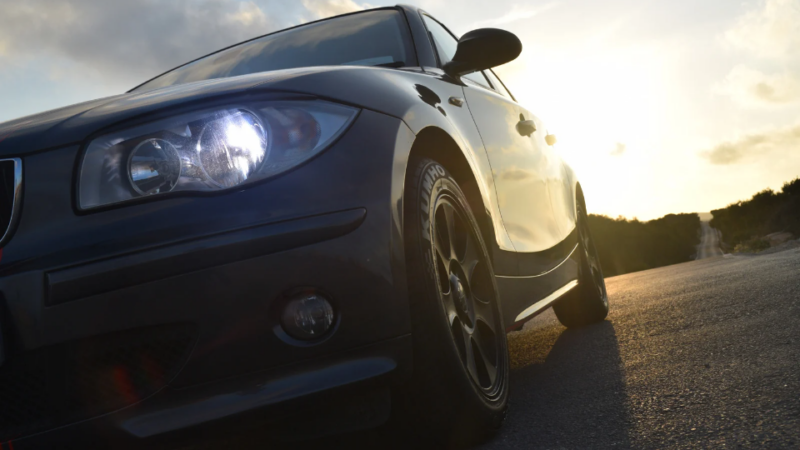 Evaluating Business Models for Their Relative Value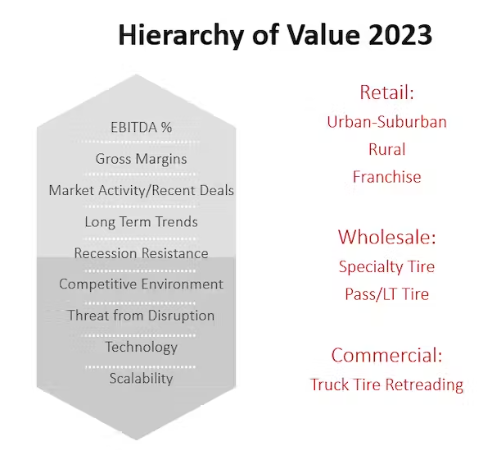 Where does your business fit in the 2023 hierarchy of value?
Three years ago, I made a stab at ranking the various business segments that I typically run into when representing tire dealers in the lower-middle market. The purpose was to explain to tire dealers why a prospective buyer might view their business' value differently than they do.
I regularly run across tire dealers who run a mix of businesses, like the tire retailer who opened a warehouse to deliver tires to his stores and then started wholesaling to sell more units at better pricing; or the tire distributor who opened a commercial tire store at the warehouse to serve local government contracts; or the commercial tire dealer who has everything — a handful of retail stores, a retread plant and maybe a wholesale operation on the side.
I never fault owners for pursuing a low-risk opportunities to make more money by leveraging what they already were doing in the same geography. One finds this a lot with what we call lifestyle businesses, which help a tire dealer to have a better and easier life, as opposed to businesses that are built to be national or regional chains. But a prospective acquirer of your business might not be as interested in all the business segments that you chose to get into.
While you were building a business that improved your lifestyle, you might also have built a business model comprised of differing business segments that have values all their own. The chart accompanying this column represents my view of the relative market value of the different segments that you'll see in the lower-middle market in privately held U.S. tire businesses.
It doesn't apply to large public companies like Driven Brands, tire distributors the size of U.S. AutoForce LLC or even regional commercial dealers like Pomp's Tire Service Inc. and McCarthy Tire Service Co. Inc. Once you reach a certain size and scale, you're in a whole different category of value. A business segment's place in my hierarchy of value is determined by a mix of things, like profitability and margins, recent market activity, positive or negative long-term trends and threats to the business model.
For 2023, we are increasingly seeing buyers looking at how businesses performed during the last recession, so recession-resistance and competitive environment have become more important factors in determining a business' value. It's clear to me that as a general rule, retail businesses are valued higher than wholesale tire businesses and wholesale tire businesses are valued higher than commercial tire businesses. The primary driving factors here are EBITDA, gross profit margins and recent market activity for these businesses.
In retail, city locations are still preferred by most acquirers to rural locations. This likely has to do with population densities, sales volumes per store and "purity" of the mix of business. As one gets more rural, one tends to find a mix of retail, commercial and wholesale in the business mix. Now franchise locations may experience a chill on valuation, only if they are constrained by the franchisor having the ability to nix who a franchisee can sell to — sometimes they control a location's real estate lease — or if the franchisor has a right of first refusal to purchase the business at a pre-determined valuation formula.
While it's hard to generalize about wholesale businesses, I'm seeing that higher valuations tend to coincide with higher margins. The substitutable brands a wholesaler carries — as well as fresh geography — will impact a buyer's sales and profit analysis greatly.
Commercial tire dealers have room for optimism on valuations now that most tire manufacturers have shed many of their company-owned commercial outlets. Tredroc Tire Service Inc.'s sale to Pomp's Tire Service in 2022 was a step in the right direction for commercial tire dealership values. Like I always say, your business is likely the largest investment that you own and improving its value will make you wealthier. Consider repositioning and rationalizing your business by fixing, selling or closing unprofitable business lines and re-investing in higher-value ones. Stop trying to be all things to all people and focus on what you can be great at.
At a minimum, invest in better financial reporting and disciplined cost accounting to accurately measure your varied businesses, so everyone can see where the value is. This will help you capture more value for yourself and not leave it to others when you exit.
Michael McGregor advises and assists multi-location tire dealers on mergers and acquisitions in the automotive aftermarket. For more information, contact him at [email protected].
This article was previously published on Modern Tire Dealer.