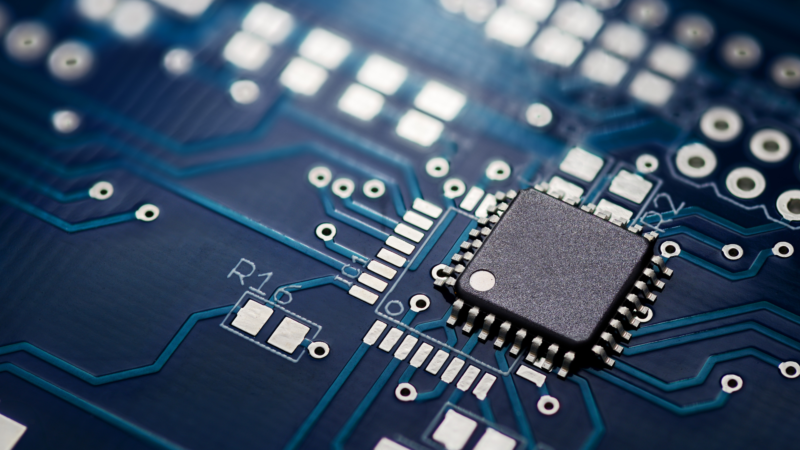 Why the U.S. Needs to Bring Significant Semiconductor Production Back Home
It's no secret the U.S. has lost millions of jobs over the past three decades as much of the production of cars, electronics, textiles and other things—industries the U.S. used to dominate—has relocated to Asia, especially China. This state of affairs has taken on renewed importance recently due to the global semiconductor ("chip") shortage, which affects virtually every other industry and highlights the U.S.'s dependence on a manufacturing supply chain located almost entirely outside the U.S.
But it's not just a business or economic issue. It's also one that affects U.S. national security. That's why we believe Washington must step in and create a new industrial policy to bring the manufacture of these vital electronic components back to its shores.
The U.S. remains dominant in the design, equipment and materials stage of the chip-making process and well positioned for the future. But we fall woefully short in the actual manufacturing of silicon wafers that are used to make chips, where the vast amount of technology is used and capital is spent. Taiwan dominates that part of the business, but as we know it lives in constant danger of a takeover by China—certainly our biggest threat economically and possibly militarily as well.
Yet the U.S. government, specifically the Department of Defense, has dramatically reduced its financial support for the industry over the past few decades. The Pentagon still buys chips from U.S. manufacturers and requires that most of the chips it uses are made domestically, but it hasn't made the contractual commitments it used to in order to lower the high capital risk to chip makers. It also does not spend as much on R&D focused on manufacturing.
As a result, only the largest and best capitalized companies, like Intel, can afford to build chip manufacturing facilities in the U.S., leaving the rest of the chip companies to offshore their production, mostly to Taiwanese foundries. Just about the entire manufacturing process has moved offshore, along with the know-how and intellectual property—the industry's crown jewels. So far, the U.S. has managed through diplomatic and economic arm-twisting to prevent the most advanced production equipment and processes from going to China, but China plans on catching up quickly, by hook or by crook.
We believe the U.S. government should sponsor a new industrial policy to protect and support this vital and strategically important industry. Semiconductors are the building blocks of the modern economy. Virtually everything today runs on them, including cutting-edge technologies such as artificial intelligence, machine learning, 5G telecommunications, advanced manufacturing, and robotics, to name a few. If anything were to happen to the Taiwanese semiconductor supply chain, the U.S. would find itself in a world of hurt.
Our military would be at risk, even though the vast majority of components it uses must be made in America. If the U.S. falls further behind in chip development and manufacturing, American manufacturers would also fall behind. We could find ourselves with planes, ships and tanks with inferior computer and weapons systems.
This development is so dire that the Biden Adminstration's $3.5 trillion infrastructure proposal, the American Jobs Plan, would allocate $50 billion in new spending to the U.S. semiconductor industry to win back global technology and manufacturing leadership. But that's only a fraction of what is really needed, as the cost of new chip plants can run $10 billion to $20 billion each.
In the past few months three global semiconductor leaders—Intel, Samsung and TSMC—have announced plans to invest over $100 billion combined in new fabrication plants in the Phoenix area. That's obviously a good sign. In the past, however, foreign chip manufacturers such as Hyundai, Fujitsu, and Samsung also announced plans to build foundries here, only to later cut and run when they realized the exorbitant cost of operating in the U.S.
Any government-sponsored industrial policy, then, would need real financial penalties, including tariffs, to prevent those companies from later backing out. But it would also need incentives to bring production back to the U.S., such as tax credits and accelerated depreciation for the expensive capital expenditures required. It also has to make sure there is plenty of reasonably priced land available and that our environmental and safety regulations are competitive with Asian countries. Washington must also encourage Science, Technology, Engineering and Math (STEM) education at all levels to increase the homegrown pool of talent.
There must also be a national security component. The U.S. needs to take China's intellectual property theft, increasingly perpetrated by its spies in American universities and corporations, much more seriously, with stiff penalties for such behavior.
This process won't be easy. But at this point the U.S. government really has no choice but to contribute to onshore semiconductor supply chain manufacturing if it doesn't want to find itself falling further behind other countries, especially China, in critical technological development. Such a policy is crucial for the U.S. politically, economically and militarily. A strong U.S. is also critical for world prosperity and peace.
Next Steps
Read our White Paper "Can the U.S. Bring Semiconductor Manufacturing Back to its Shores (and Should It)?"