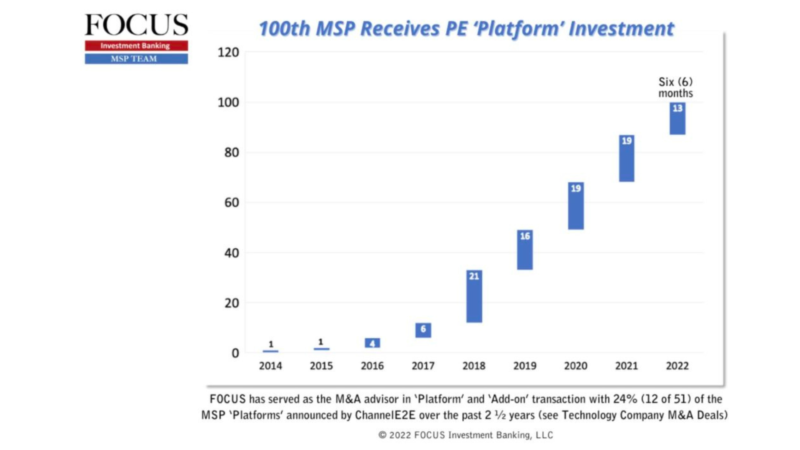 The Next "BIG Thing": Private Equity May "Double Down" on MSPs
Today
In a press release, my partner Stan Gowisnock is quoted saying "We have recorded each private equity 'Platform' investment that we've been privy to, or which was publicly announced. As a result, we believe Tower Arch's investment into our client, ITS, marks the 100th MSP to receive a PE 'Platform' investment.
Yesterday
Channel Futures, CRN, and PEHub announced Tower Arch Capital acquired our client, Intelligent Technical Solutions as 'First Step Into MSP Market'.
In an interview with PEHub, Aubrey Burnett, Partner, Tower Arch Capital, stated "We had become interested in the managed service provider space about 18 months ago and have been proactively looking for a platform investment in the sector," Burnett explained. "This industry has a business model that has a lot of qualities we really like, providing essential services to small businesses that tend to be non-deferrable, reoccurring in nature and growing in demand."
In an interview with CRN, Burnett said, "We've had other kinds of IT services-related investments, but this is our first pure-play MSP investment. Our goal would be to expand our footprint in the MSP space through ITS. We want to put more capital work here by investing more money into ITS for them to go and buy other companies and build their service offerings. But, yes, the goal is to expand to other MSPs."
Last Week
'Managed Services Industry Remains Investor Magnet' was published by John Moore of TechTarget. In the article, John declared, "The high-tempo transaction pace continues as investors cite recurring revenue, attractive cash flows, and favorable IT trends as reasons to pursue MSP deals."
In an interview with TechTarget, Jonathon Bunt, director at FFL Partners said, "At a high level, MSPs are a really attractive investment area, and I think that has been increasingly recognized by the private equity community."
The appeal of MSPs as investment candidates stems from business models built on recurring revenue and attractive cash flows, as well as the fact that MSPs stand to benefit from macro IT trends extending into the future, Bunt noted. Those key trends include an increasing focus on cybersecurity, the scarcity of IT talent, and the growing compliance needs of businesses in heavily regulated industries such as healthcare and financial services, he said.
"With the landscape, we are moving into now, it's going to be interesting to see how things evolve," Bunt said. MSPs, however, have some factors in their favor should economic activity decline. Outsourcing can become more attractive in a down market, he said, as businesses look to control costs and maximize flexibility.
What's more, the continuing scarcity of IT talent means businesses will "continue to need MSPs regardless of what happens from a macroeconomic perspective," he added.
From the investment point of view, interest rates could influence how buyers evaluate candidates. "The change in interest rates really affects how investors think about cash flow and future cash flow," Bunt said. When interest rates are low, for example, investors might place a higher value on future growth, he said. But with higher interest rates, future, more-speculative cash flow is viewed as less valuable.
Past Two ½ Years: FOCUS Sees Swell of MSP M&A Activity
Over the past two 1/2 years, FOCUS' MSP Team has advised on transactions with 47 parties and grown its advisory revenue by 1,126%. To put this in context, our revenue growth is equivalent to ranking 436 on Inc. Magazine's Inc.5000 list of fastest-growing private companies.
Congratulations on the 100th private equity 'Platform' investment to everyone in the MSP Industry
On behalf of FOCUS Investment Banking, a huge congratulations and thank you for the opportunity to serve so many legendary Founder/CEO entrepreneurs in the MSP Industry including Tom Andrulis, Rashaad Bajwa, Kevin Blake, Willis Cantey, Steven Cariglio, Kevin Cook, Brian Desrosier, Jim Kennedy, Jon Labrum, Buddy Martin, Donald C. Monistere, Karl Muehlberger, Eric Noonan, Ravi Ramharak, Edward M Reade, David Robinson, Tony Schafer, Jake Spanberger, Mohit 'Mo' Vij and Mike Williams.
Also a special shout out to The IT Nation Evolve Peer Groups led by Arlin Sorensen and so many other wonderful people that have helped propel the industry forward.