Middle Market Investment Banking Firm FOCUS LLC Secures Additional $25,000,000 in Senior Debt Financing for Merchant Cash & Capital, LLC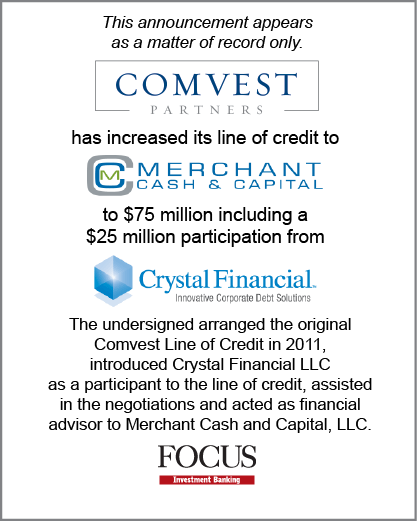 Washington, DC (March 19, 2014) – FOCUS Investment Banking LLC, a national middle market investment banking firm providing merger, acquisition, divestiture and corporate finance services, announced today that Merchant Cash & Capital, LLC (MCC) has secured an additional $25,000,000 in senior debt financing from Crystal Financial LLC as a participant in Comvest Capital II, L.P.'s (Comvest) term loan which Comvest has increased to $75 million in the aggregate. FOCUS represented MCC in arranging the original $25 million Comvest term loan and in bringing Crystal into the increased line as a participant.
Merchant Cash & Capital is a pioneer and leader in the merchant cash advance industry. The Company grew rapidly after the initial Comvest transaction and sees significant opportunities for continued growth.
"Like the businesses we finance, we need resources to develop more programs and services for our customers, and that is exactly what this new financing will allow us to do," said MCC Chief Executive Officer Stephen Sheinbaum. "Our new term loan gives us the capital needed to invest in technology and product development, and catapult the growth of MCC from the current levels of funding $20 million per month to more than double that over the course of the next year."
"We have enjoyed watching the product growth and continuous improvement of MCC over the last several years," said Greg Reynolds, Managing Director at Comvest. "We are confident that MCC is well-positioned for the future and are delighted to increase our capital commitment and bring Crystal Financial LLC and Medley LLC, through Medley Capital Corporation, into the new term loan."
John Slater, FOCUS Partner and Capital Financing Team Leader, added, "MCC is a well-run, financially sound, but complex business. As small business financing has increasingly moved outside of the traditional commercial banking industry, MCC serves as a critical intermediary, bridging the large scale capital markets funding provided by firms such as Comvest and Crystal with the funding needs of growing entrepreneurial businesses. FOCUS seeks to serve innovative specialty finance companies such as MCC by providing access to a broad universe of capital sources and by providing its experience, advice and counsel to assist its clients in sharing their stories in a clear and concise manner to move the deals from conception to closing."
About Merchant Cash and Capital
Merchant Cash and Capital, LLC combines advanced technology and unmatched customer service to provide financing for business owners around the country. With its ASAP (Automated Submission and Pre-Approval System) technology, MCC enables business owners to instantly secure funding approvals - a process that took 24 hours, now takes 24 seconds. MCC has funded more than $650 million to over 13,000 unique business owners and a total of 29,000 advances. For more information, visit www.merchantcashandcapital.com or call 1-877-208-7758.
About Comvest Partners
Comvest Partners, with $1.2 billion of assets under management, provides flexible financing solutions to lower middle-market companies through its equity and debt funds, often meeting time-critical and complex funding requirements. Our firm includes seasoned, senior level operating executives who partner with managers and owners of companies to operationally improve businesses and create long-term value. Since 2000, Comvest has invested more than $1.9 billion of capital in over 130 public and private companies. Please visit www.comvest.com.
About Crystal Financial
Crystal Financial LLC, a portfolio company of Solar Capital Ltd., is an independent commercial finance company that provides senior and junior secured loans for both asset-based and cash flow financings (minimum of $10 million in fundings) to middle-market companies. Its team of experienced, responsive professionals has underwritten, closed and managed more than $20 billion in secured debt commitments across a wide range of industries. For more information please visit www.crystalfinco.com.
*These testimonials may not be representative of the experience of all clients; testimonials are not a guarantee of future performance or success.
About FOCUS LLC
FOCUS LLC provides a range of middle market investment banking services with an emphasis on mergers, acquisitions, divestitures and corporate finance. FOCUS is a national firm serving clients from offices in major cities across the United States. FOCUS specializes in business units with transactions or revenues in the $5-300 million range, serving entrepreneurs, corporate owners and various types of investors across a broad range of industries, throughout the U.S. and worldwide. FOCUS bankers are seasoned operating and financial executives with extensive transaction experience. Securities transactions conducted by FOCUS Securities LLC, an affiliated company, registered Broker Dealer member FINRA/SIPC. For more information on FOCUS, visit focusbankers.com.