Middle Market Investment Banking Firm, FOCUS LLC, Represents Encore Construction Company in Acquisition by Garney Holding Company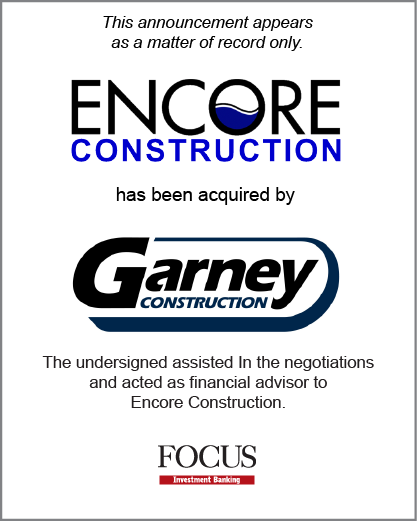 Washington, DC (December 4, 2012) – FOCUS LLC, a national middle market investment banking firm providing merger, acquisition, divestiture and corporate finance services, announced that Encore Construction Company has been acquired by Garney Holding Company, owner of Garney Construction Company. FOCUS represented Encore Construction in the transaction.
Established in 1984 and specializing in the construction of water and wastewater treatment facilities and pump stations, Encore, headquartered in Winter Garden, Florida, has ongoing construction projects throughout the southeastern United States with contract values in excess of $235 million and has over 125 employees.
Kansas City-based Garney, an employee owned company since 1994, specializes in water and wastewater pipelines, treatment facilities, pumping stations, water storage tanks and other industrial projects. According to Garney's CEO Mike Heitmann, "The acquisition will further enhance Garney's presence in the fast growing Florida and Southeast market.
According to Pat Rainey, Encore's founder and majority owner, "I was planning to retire in the next few years and was looking for a way to divest the company while taking care of all of my employees. FOCUS understood this and all of my other goals and led me to a successful transaction that is beneficial to all involved."
Jonathan Wilfong, FOCUS Southeast regional managing partner added, "This was an excellent transaction for all parties involved. Garney solidifies its position in the Southeast with its acquisition of this highly regarded and well respected company while Encore preserves its legacy by joining one of the best companies in the industry. In addition all Encore employees are now owners in Garney and will participate financially in its future growth and success."
*These testimonials may not be representative of the experience of all clients; testimonials are not a guarantee of future performance or success.
About FOCUS LLC
FOCUS LLC provides a range of middle market investment banking services with an emphasis on mergers, acquisitions, divestitures and corporate finance. FOCUS is a national firm serving clients from offices in major cities across the United States. FOCUS specializes in business units with transactions or revenues in the $5-300 million range, serving entrepreneurs, corporate owners and various types of investors across a broad range of industries, throughout the U.S. and worldwide. FOCUS bankers are seasoned operating and financial executives with extensive transaction experience. Securities transactions conducted by FOCUS Securities LLC, an affiliated company, registered Broker Dealer member FINRA/SIPC. For more information on FOCUS, visit www.focusbankers.com.