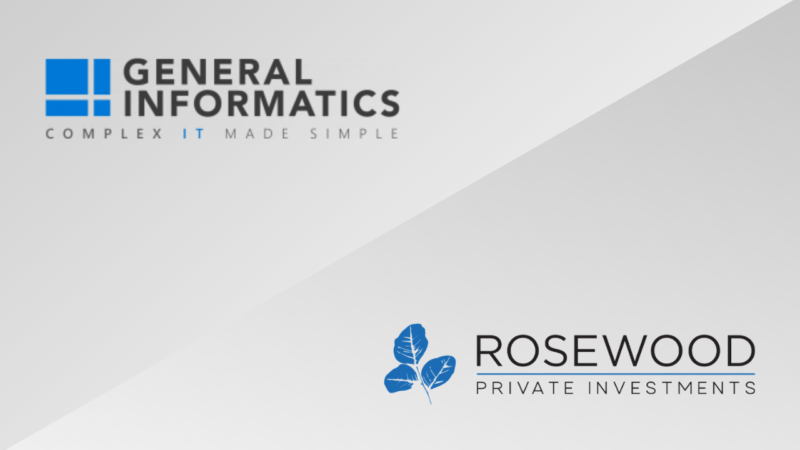 General Informatics, Represented by FOCUS Investment Banking, is Recapitalized by Rosewood Private Investments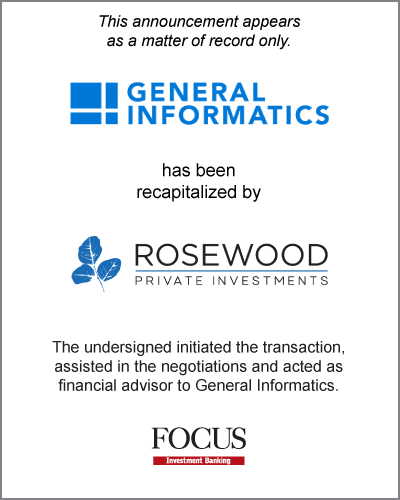 Washington, DC (December 22, 2020) – FOCUS Investment Banking, ("FOCUS"), a national middle market investment banking firm providing merger, acquisition, divestiture and capital raising services, announced that General Informatics (GI), a Baton Rouge, LA-based full-service IT managed services provider (MSP), cloud services business and IT consultancy, has been recapitalized by Rosewood Private Investments (RPI), a Dallas-based private equity firm. Focus advised General Informatics in this transaction.

As part of the transaction, in which RPI will own a majority stake in GI, Don Monistere will be joining GI as its new President. He will work closely with Mohit Vij, GI's Founder, who will remain CEO. Vij said the company will remain headquartered in Baton Rouge, with Monistere relocating there.

GI has built a comprehensive suite of services to become one of the region's leading IT partners to state and local governments, healthcare organizations, educational institutions and private businesses in the Southeast. The company provides IT services and support to more than 200 companies, most of them in Louisiana.

GI is RPI's first investment in the IT services space and will serve as the platform for future organic and acquisitive growth, with plans to expand outside Louisiana into a 10-state area.

"Going forward we will continue with the same methodology, constantly evaluating and evolving our technology, partners and services to continue to provide our clients with the best IT services on the market," Vij said.

"We believe that General Informatics is unique in its breadth of technology expertise, high service levels and talented team, which is why we are so excited to scale it," said Briton Burge, Principal at RPI.

"This capital investment from RPI really sets up GI to do much larger transactions," said Abe Garver, managing director at FOCUS Investment Banking. General Informatics is one of more than 40 private equity-backed MSP platforms worldwide, 12 of which have been created so far this year, Garver said. Focus has advised on four of those deals, including General Informatics.
About FOCUS Investment Banking
With more than three decades of experience, FOCUS Investment Banking is a trusted name in middle market M&A advisory services worldwide. Whether helping to sell, buy, or raise capital, FOCUS strives to maximize the value of every transaction to the benefit of its clients. Securities transactions conducted by FOCUS Securities LLC, an affiliated company, registered Broker Dealer member FINRA/SIPC. For more information, visit www.focusbankers.com.
About General Informatics
Services Provider ("MSP"), cloud services business, and IT consultancy, which has built a comprehensive suite of services to become one of the region's leading IT partners to state and local governments, healthcare organizations, educational institutions, and private businesses in the Southeast. For more information visit Genif.com.
About Rosewood Private Investments
Rosewood has a long history of investing in and creating value within numerous industries. RPI's approach to working with operating partners to strategically grow companies through acquisitions and organic means has proven successful for all stakeholders. Current holdings are focused on IT services, nutrition and wellness, manufacturing technologies, and industrial services. In addition to these areas, the company is pursuing new platforms in fire & life safety services, transportation & logistics, specialty chemicals and outsourced business services. We welcome any information about investment opportunities within these verticals. Visit www.rosewoodpi.com to learn more.