Middle Market Investment Banking Firm FOCUS LLC Represents Takata Corporation in the Purchase of BAE Systems Safety Products, Inc. and Schroth Safety Products GmbH in the U.S. and Germany, subsidiaries of BAE Systems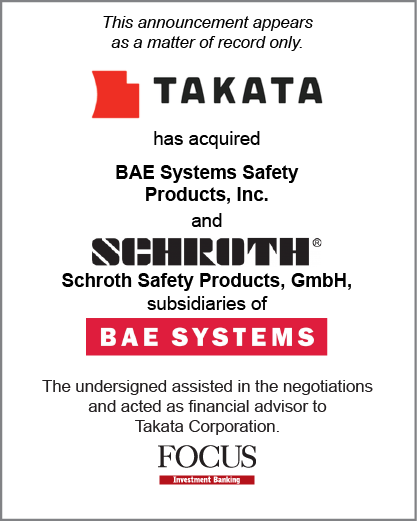 Washington, DC (March, 6 2012) – FOCUS LLC, a national middle market investment banking firm providing merger, acquisition, divestiture and corporate finance services, announced today that Takata Corporation has acquired BAE Safety Products, Inc and Schroth Safety Products GmbH for $32M. FOCUS represented Takata in the transaction.
Based in Tokyo, Japan, Takata is a major manufacturer of motor vehicle seat belts, restraints, airbags and interior trim with 49 plants in 18 countries.
According to Tom Storrs, Executive Officer, Takata Corporation, "This acquisition will support Takata's position as the world's leading vehicular restraint system manufacturer. Takata has operated in North America since 1984 and has grown steadily and profitably since that time."
FOCUS Managing Director, Gerald Turner, noted, "This transaction broadens the client base and opens significant strategic opportunities for Takata. For FOCUS this is yet another deal in which the originating companies are both international."
"The corporate divestiture activity within the large defense firms continues and this transaction is a reflection of opportunities that exist for U.S. defense firms in the international sector, a skill FOCUS has demonstrated for several years," commented Manan Shah, FOCUS Partner and Government Aerospace & Defense Team Leader.
About FOCUS LLC
FOCUS LLC provides a range of middle market investment banking services with an emphasis on mergers, acquisitions, divestitures and corporate finance. FOCUS is a national firm serving clients from offices in major cities across the United States. FOCUS specializes in business units with transactions or revenues in the $5-300 million range, serving entrepreneurs, corporate owners and various types of investors across a broad range of industries, throughout the U.S. and worldwide. FOCUS bankers are seasoned operating and financial executives with extensive transaction experience. Securities transactions conducted by FOCUS Securities LLC, an affiliated company, registered Broker Dealer member FINRA/SIPC. For more information on FOCUS, visit www.focusbankers.com.