FOCUS LLC Secures Financing for Agentek, Inc.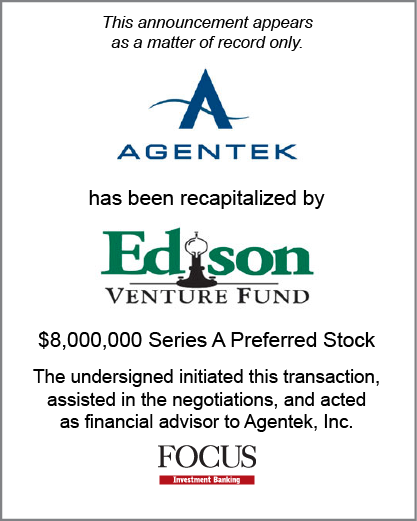 Washington, DC and Atlanta, GA (April 3, 2008) – FOCUS LLC, a national middle market investment banking firm announces that Agentek, Inc. has been recapitalized with a Series A Participating Preferred Stock by Edison Venture Fund. FOCUS initiated the transaction, acted as financial advisor to, and assisted with the negotiations as the representative of Agentek. Agentek is a leading provider of real-time, mobile field software solutions that enable businesses to dramatically improve customer service and retention and reduce operating costs. From pre-packaged and configured applications to backend enterprise integration, Agentek delivers end-to-end mobile software solutions that address challenges in field service, route accounting, direct store delivery and logistics automation.
According to Jeff Jarvis, CEO, "this investment validates Agentek's vision and will accelerate their leadership in the mobile field automation marketplace through increased sales and marketing operations as well as expanded product development."
Established in 1986, Edison partners with entrepreneurs, service providers and other financing sources to build successful companies. Edison provides capital and value-added services to expansion stage ($5 to 20 million revenue), information technology businesses. Initial investments range from $5 to 10 million. Edison typically serves as a sole or lead investor. In addition to providing expansion capital, Edison funds management buyouts, recapitalizations, spinouts and secondary stock purchases. Edison currently has $550 million under management and is actively making new investments. www.edisonventure.com
"The mobile field force market is set to explode and Agentek is positioned as the software development leader," says Joe Allegra, the Edison general partner who will join Agentek's Board.
Jeff Jarvis concludes, "FOCUS' familiarity working with entrepreneurs and its ability to tap into a seasoned Senior Advisor network were essential in assisting Agentek on its journey from a great technology to a great business model that was attractive to numerous investors. In this transaction, Huxley Nixon, the lead banker for FOCUS invited Dick Cook, a Senior Advisor, who was the retired CEO of Mapics, Inc. and a senior executive with IBM to help consult with the Company."
About FOCUS LLC
FOCUS LLC provides a range of middle market investment banking services with an emphasis on mergers, acquisitions, divestitures and corporate finance. FOCUS is headquartered in Washington, D.C. with regional offices in Atlanta, Chicago, Los Angeles and San Francisco. FOCUS specializes in business units with transactions or revenues in the $5-300 million range, serving entrepreneurs, corporate owners and various types of investors across a broad range of industries, throughout the U.S. and worldwide. FOCUS bankers are seasoned operating and financial executives with extensive transaction experience. Securities transactions conducted by Wm. H. Murphy & Co., Inc. registered Broker Dealer member FINRA/SIPC. For more information on FOCUS, visit www.focusbankers.com.