FOCUS Investment Banking Secures a Significant Minority Investment for Hosted Communications Provider DSCI Corporation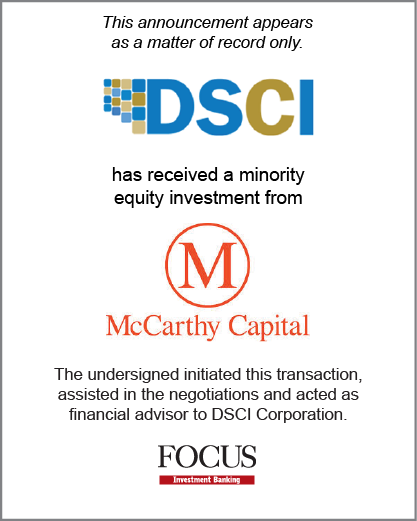 Washington, DC (April 2, 2014) – FOCUS Investment Banking LLC, a national middle market investment banking firm providing merger, acquisition, divestiture and corporate finance services, announced today that DSCI Corporation (DSCI) has secured a significant minority investment from private equity firm McCarthy Capital Fund V (McCarthy Capital).  The significant investment from McCarthy Capital gives DSCI the means to further develop its thriving business organically and through acquisition. FOCUS represented DSCI in this transaction.
DSCI provides enterprise-grade unified communications and connectivity services over its own network to more than 1,300 businesses throughout New England. The company currently employs 93 people in two locations, a corporate headquarters and sales office in Waltham, MA and an operations center in Manchester, NH.
"We are proud to partner with the management owners of DSCI, and we look forward to helping them better serve their customers and grow their business," commented Bob Emmert, Managing Partner at McCarthy Capital.
"McCarthy Capital, like DSCI, is focused on corporate culture, retention, and employee satisfaction. They invest first in people and second in profits," said Sean Dandley, DSCI's President and CEO. "This transaction and the subsequent access to additional capital is going to open up a whole new world of opportunities for DSCI. I look forward to working with the team at McCarthy to make it happen."
Rich Pierce, FOCUS Managing Director and leader of the Telecommunications Technology and Services Team, added, "DSCI is an exceptional company that has emerged as a true leader in the hosted communications market.  By combining hosted PBX services with a best-in-class network and strong customer support, DSCI has created a highly compelling value proposition for its customers.  We were delighted to assist DSCI with finding a partner to help guide them through the next phase of their growth."
Manan Shah, FOCUS Partner and co-leader of the Information Technology Team, added, "Managed services companies like DSCI provide for a very attractive investment opportunity for private equity investors due to their recurring revenue model. We were pleased to be a partner for DSCI in this endeavor."
About DSCI Corporation
DSCI Corporation is New England's leading hosted communications provider. With the power and reach of its Hosted Communications Network, DSCI delivers innovative unified communications and connectivity services to more than 1,300 businesses and organizations throughout the region. DSCI backs its services with a zealous commitment to Customer Care, including a 100% network uptime guarantee and 24/7/365 live-answer technical support. To learn more about DSCI visit www.dscicorp.com.
About McCarthy Capital Fund V
McCarthy Capital Fund V is managed by McCarthy Partners Management, LLC, an affiliated RIA of McCarthy Capital ("McCarthy"). McCarthy is an Omaha-based private equity firm, with offices in Boston, focused exclusively on lower middle-market companies. For more than 25 years, the McCarthy organization has been partnering with founders, families and exceptional management teams to support the growth of their companies.
*These testimonials may not be representative of the experience of all clients; testimonials are not a guarantee of future performance or success.
About FOCUS Investment Banking LLC
FOCUS LLC provides a range of middle market investment banking services with an emphasis on mergers, acquisitions, divestitures and corporate finance.  FOCUS is a national firm serving clients from offices in major cities across the United States.  FOCUS specializes in business units with transactions or revenues in the $5-300 million range, serving entrepreneurs, corporate owners and various types of investors across a broad range of industries, throughout the U.S. and worldwide.  FOCUS bankers are seasoned operating and financial executives with extensive transaction experience.  Securities transactions conducted by FOCUS Securities LLC, an affiliated company, registered Broker Dealer member FINRA/SIPC.  For more information on FOCUS, visit focusbankers.com.