FOCUS Investment Banking Secures Convertible Preferred Equity Growth Financing for LbGlobalLaw, LLC From Sopris Capital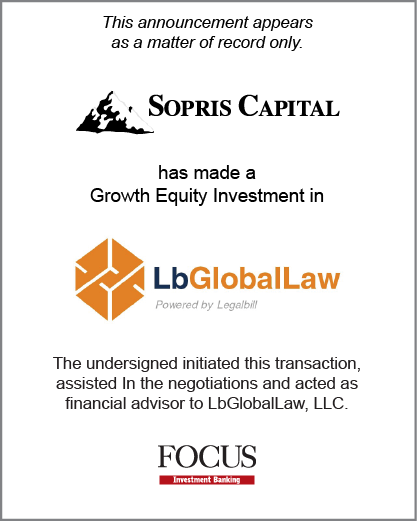 Washington, DC (March 1, 2014) – FOCUS Investment Banking, a national middle market investment banking firm providing merger, acquisition, divestiture and corporate finance services announced today that LbGlobalLaw, LLC (LbGlobalLaw) has secured Convertible Preferred Equity growth financing from Sopris Capital Associates, LLC (Sopris). FOCUS represented LbGlobalLaw in the transaction.
LbGlobalLaw, is a highly regarded business intelligence and data analytics firm serving global Fortune 2000 corporate clients, with a core business in providing legal spend management solutions augmented by comprehensive data analytics reporting. The company was founded in 1999, and is headquartered in Nashville, TN, employing 64 people.
According to Steve French, CEO of LbGlobalLaw, "Through its disciplined process FOCUS leveraged its database of prospective mezzanine and growth equity investors and obtained multiple investment proposals ranging from mezzanine debt structures to control acquisitions.
Their assistance preparing a comprehensive information memorandum describing our unique business model and helping us manage the negotiations and due diligence process was invaluable."
Sopris Capital has a long history of backing successful entrepreneurial companies to provide advice and support that enhance a Company's ability to pursue continued rapid growth of both its existing services and planned new product offerings.
LbGlobalLaw epitomizes the entrepreneurial success story that we seek to serve," says John Slater, FOCUS Partner and Team Leader of the Capital Financing Team. "Our mission is to provide growing companies with access to the rapidly expanding universe of non-bank lenders and growth equity investors."
About FOCUS LLC
FOCUS LLC provides a range of middle market investment banking services with an emphasis on mergers, acquisitions, divestitures and corporate finance. FOCUS is a national firm serving clients from offices in major cities across the United States. FOCUS specializes in business units with transactions or revenues in the $5-300 million range, serving entrepreneurs, corporate owners and various types of investors across a broad range of industries, throughout the U.S. and worldwide. FOCUS bankers are seasoned operating and financial executives with extensive transaction experience. Securities transactions conducted by FOCUS Securities LLC, an affiliated company, registered Broker Dealer member FINRA/SIPC. For more information on FOCUS, visit focusbankers.com.