FOCUS Investment Banking Represents VfD Technologies in its Purchase of Isimac Machine Company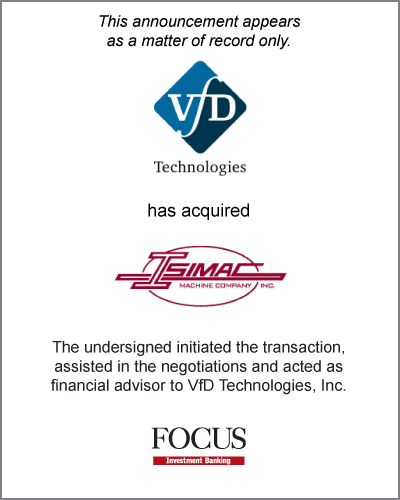 Vienna, VA (October 29, 2020) – FOCUS Investment Banking ("FOCUS"), a national middle market investment banking firm providing merger, acquisition, divestiture and corporate finance services announced today that VfD Technologies, Inc. ("VfD") has acquired Isimac Machine Company, Inc. ("Isimac"). The FOCUS' Advanced Manufacturing & Automation Team represented VfD in the transaction.
"The acquisition of Isimac significantly strengthens our capabilities in ultra-high precision medical devices and surgical instruments", said Beth Rothwell, President of VfD. "Isimac's capabilities expand VfD's already strong position in medical devices, providing the basis for accelerated growth in the industry.
Headquartered in the Lehigh Valley, VfD has found eastern Pennsylvania to be an ideal environment in which to build technologically advanced precision manufacturing capabilities. The region's manufacturing heritage predates the nation. VfD is building on that history by providing a highly skilled workforce with the most current automation technologies to serve America's leading companies in medical devices, robotics, and transportation.
According to FOCUS Advanced Manufacturing & Automation Team Leader, John Slater, "VfD is an upcoming leader in the ongoing consolidation of precision manufacturing. The company reached out to us after successfully completing three acquisitions and integrating their operations to build a highly disciplined, data driven organization ripe for further expansion. They were fully engaged running their business and recognized that they needed help to pursue further growth through acquisitions. Our
process driven approach helped them uncover great companies that were not "on the market", but which would be great additions to their organization."
"FOCUS opened doors that we could never get in on our own. They helped us define our growth criteria, researched the firms that might be a fit and doggedly pursued the process, presenting us with multiple opportunities of interest in the targeted market. In the end Isimac was the perfect fit", says Patrick Thornton, VfD's CFO. "FOCUS knows what makes manufacturers tick and they have real depth in the precision manufacturing industry. Owners saw that and were willing to listen when they shared our story of successfully acquiring great companies as a platform for growth."
*These testimonials may not be representative of the experience of all clients; testimonials are not a guarantee of future performance or success.
About FOCUS Advanced Manufacturing & Automation
The FOCUS Advanced Manufacturing & Automation Team provides merger and acquisition and capital raising services to the U.S. advanced manufacturing industry, with a particular focus on privately owned service manufacturers and professional services organizations in precision machining and metalworking, additive manufacturing, electronics, medical devices, advanced materials and automation/Industry 4.0. FOCUS believes these firms provide the basis for a U.S. manufacturing resurgence that has been underway for some time but has been dramatically accelerated by COVID-19. These firms produce the components and technologies that enable U.S. manufacturers to compete effectively against ever-increasing global competition.
FOCUS's white paper outlining the dynamics favoring increasing consolidation in the precision machining industry can be downloaded at this link. For more information contact John Slater at john.slater@focusbankers.com.
About VfD Technologies, Inc.
Founded in 2008, VfD is a technology driven precision manufacturer that enables the world's leading companies to bring their products to market. The Company excels in high-complexity, high-tolerance machining for medical device, automation and robotics, and transportation applications. Headquartered in Bethlehem, PA, VfD has 215 employees and operates in four manufacturing locations. For more information, please visit www.vfdtechnologies.com.
About Isimac Machine Company, Inc.
Isimac, located in Blandon, PA is a precision manufacturer for the medical device, aerospace, and telecommunications industries. Founded in 1964, Isimac has developed into a full service manufacturing partner for current and next-generation advanced surgical products. The company currently has a strong pipeline of new products in the development stage.