FOCUS Investment Banking Represents TSS Technologies in Business Sale
Sell Side M&A Investment Banking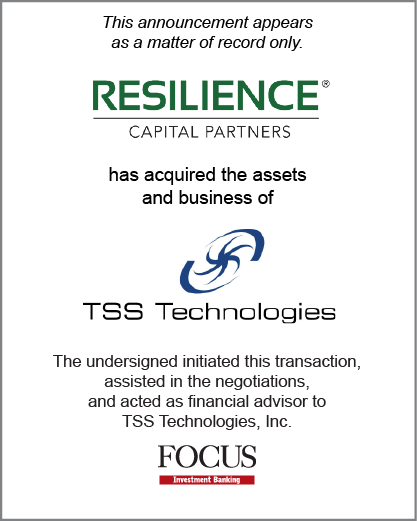 Washington, DC, January 3, 2019 – FOCUS Investment Banking, a national middle market investment banking firm providing merger, acquisition, divestiture, and corporate finance services, announced today that the assets and business of TSS Technologies, Inc. ("TSS") have been acquired by an affiliate of Resilience Capital Partners.  FOCUS represented TSS in this transaction.
Established in 1948 by Charles B. Nichols, Sr. and headquartered in West Chester, Ohio, TSS was a custom industrial automation solutions provider and an industry leader in integration and design-and-build engineering of complex automated assembly lines and production equipment.  It had substantial experience in precision manufacturing for a diverse range of technology-driven industries, including life sciences, aerospace, and consumer goods end markets, as well as other general industrial sectors.  Shirish Pareek, executive chairman of the purchaser, commented, "We are thrilled to mark the beginning of a new chapter in the legacy created by the Nichols family.  I look forward to working with the Resilience team to continue to execute on our growth strategy, and leveraging their operational insight and global networks."
Shirish Pareek is the founder of Hydraulex Global, having built it into a world leader in the remanufacture and repair of hydraulic components for industrial equipment and heavy commercial and off-road vehicles through a series of acquisitions.  He is the Founder and Managing Director of AMG Partners, a U.S. based private equity fund which focuses solely on Advanced Manufacturing.  Mr. Pareek will provide broad-based manufacturing expertise and entrepreneurial vision to the company.  Additionally, he will bring to bear his extensive network of relationships among the leaders of U.S. advanced manufacturing.  From 2012 to 2016 he served on the United States Presidential Manufacturing Council and as the Co-Chair for the Workforce and Skills Sub-Committee.  Currently he serves on the leadership council of MForesight, a federally-funded consortium focused on enhancing U.S. manufacturing competitiveness.  Per Shirish "The complexity of TSS's business structure presented unique challenges for the successful closing of the transaction.  Without FOCUS's guidance and persistence, we could not have brought the deal across the finish line."
The deal represents a platform investment for Resilience in the industrial automation and engineering services market vertical.  "We are very excited to leverage opportunities to scale the business through organic growth as well as strategic acquisitions that expand its service offerings and market reach," said Bassem Mansour, co-CEO of Resilience.  Funding for the transaction comes from Resilience Fund IV, which closed in October 2015 with $350 million in investable capital.
John Slater, FOCUS Partner and Team Leader of the Advanced Manufacturing & Automation practice, stated, "Automation Solutions and Integration is one of the most rapidly growing industries in the world, with strong indications that industry growth will continue at a compound rate of 10-15% annually for the foreseeable future.  With new leadership backed by Shirish's board level strategic oversight and Resilience's financial resources and advisory network, the new company is poised to take its place as a recognized leader, providing some of the world's most advanced automation solutions."
*These testimonials may not be representative of the experience of all clients; testimonials are not a guarantee of future performance or success.
About Resilience Capital Partners
Headquartered in Cleveland, Ohio, Resilience invests in niche-oriented manufacturing, value added distribution and business service companies with sustainable market positions and a clear path to cash flow improvement. Resilience targets platform businesses with $25 million to $250 million in revenues across a broad range of industries where it can improve a company's operations, competitive positioning and profitability. Resilience manages in excess of $625 million for its global investor base that includes pension funds, insurance companies, foundations and endowments, fund of funds and family offices. For more information, please visit www.resiliencecapital.com.
About AMG Partners
AMG Partners is a first-of-its-kind advanced manufacturing growth and buyout equity fund.  AMG invests in, and actively works with founders, entrepreneurs, and management teams to accelerate the growth of U.S. advanced manufacturing companies globally.
About FOCUS Investment Banking LLC
With more than three decades of experience, FOCUS Investment Banking is a trusted name in M&A advisory services worldwide. FOCUS works to understand each client's strategic and financial objectives, craft the best plan to achieve these goals, and deliver success. Whether helping to sell, buy, or raise capital, FOCUS strives to maximize the value of every transaction to the benefit of its clients. Securities transactions conducted by FOCUS Securities LLC, an affiliated company, registered Broker Dealer member FINRA/SIPC. For more information on FOCUS and its Advanced Manufacturing & Automation practice, please visit www.focusbankers.com/automation.