FOCUS Investment Banking Represents Travelers Body & Fender Works in Sale
Sell Side M&A Investment Banking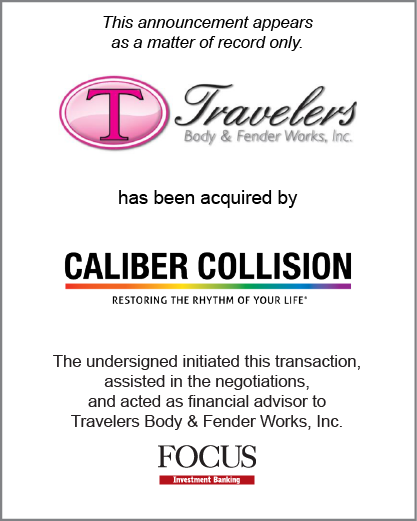 Washington, DC, (September 12, 2018) – FOCUS Investment Banking, a national middle market investment banking firm providing merger, acquisition, divestiture, and corporate finance services, announced today that Travelers Body & Fender Works has been acquired by Caliber Collision. FOCUS represented Travelers Body & Fender Works in this transaction.
Travelers Body & Fender Works was founded more than 70 years ago and operated one of the largest collision repair facilities in Fresno, CA
Caliber Collison is the largest collision repair company in the U.S with more than 610 collision repair centers in the US.
Jim Minnis of Travelers commented, ""We're going to miss it, but the technology that's ahead of all of us is going to become very complex," Minnis said. "At my age, 76 years old, I feel I should let some younger people take advantage of that."
David Roberts, FOCUS Automotive Group Leader and Nancy Rolland, FOCUS Managing Director managed the transaction for Travelers.  Ms. Rolland commented, "Travelers was a premier operation in the Central California market.  Jim's decision highlights the changes in the industry – even for the very large and very skilled operators."
*These testimonials may not be representative of the experience of all clients; testimonials are not a guarantee of future performance or success.
About FOCUS Investment Banking LLC
With more than three decades of experience, FOCUS Investment Banking is a trusted name in M&A advisory services worldwide. FOCUS works to understand each client's strategic and financial objectives, craft the best plan to achieve these goals, and deliver success. Whether helping to sell, buy, or raise capital, FOCUS strives to maximize the value of every transaction to the benefit of its clients. Securities transactions conducted by FOCUS Securities LLC, an affiliated company, registered Broker Dealer member FINRA/SIPC. For more information on FOCUS and its Automotive practice, please visit www.focusbankers.com/automotive.