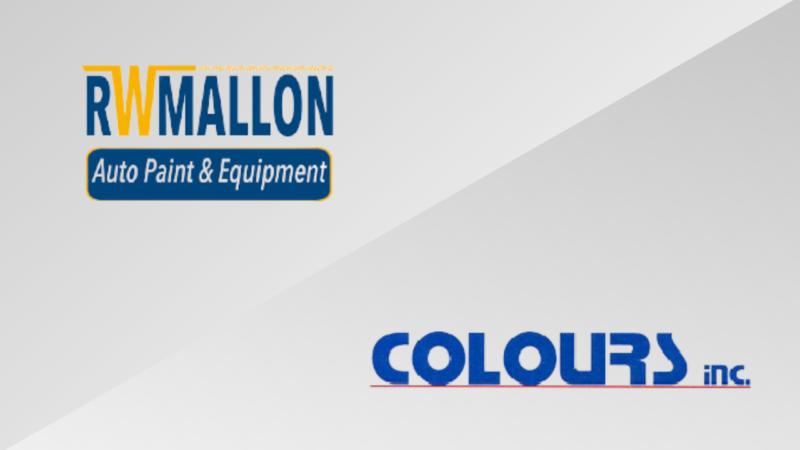 FOCUS Investment Banking Represents Robert W Mallon Inc. in its Acquisition by Colours, Inc.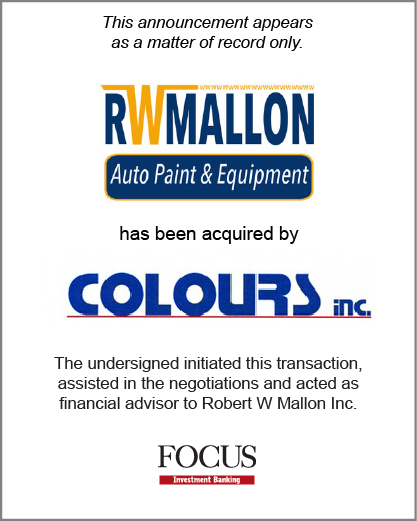 Washington, DC (November 18, 2016) – FOCUS Investment Banking, a national middle market investment banking firm providing merger, acquisition, divestiture and corporate finance services announced today that Robert W Mallon Inc. has been acquired by Colours, Inc., one of the fastest growing PPG Platinum paint distributors in the United States. Together with Mallon Auto Paint locations in Warrenton, PA and Pennsauken NJ, Colours now operates 32 locations, providing automotive refinish paints and supplies as well as comprehensive training and certification.
Tim Evans, CEO of Colours, Inc, expressed his excitement about this new opportunity, "I am thrilled with our addition of the Mallon group to expand the ever-growing network of Colours locations, which currently covers a 5 state area. I am pleased to welcome aboard Mallon's employees and customers to our team."  Ali Mahalak, Colours' CFO added, "We believe this acquisition is an excellent fit between two family owned companies who are both striving for perfection by offering a wide variety of products and programs to our customers and loyalty to the PPG brand."
For Bob Mallon, long-time President and CEO of Mallon, the new partnership was about maintaining a family-like culture, "We were looking for another strong family business with multiple locations capable of expanding our business into the farthest reaches of our territory. Together we form a very strong team that will continue to achieve tremendous growth and expand its reach."
David Roberts, Managing Director and Automotive Group team leader for FOCUS Investment Banking, commented, "FOCUS is proud to have assisted Bob and his team in finding the right partner to help meet the challenges in the rapidly evolving paint distribution market.  Mallon Paint and Colours joined forces to create the financial, operational and geographic scale required to succeed in the coming years."
Robert W Mallon, Inc. is the fifth paint jobber represented by the FOCUS Automotive Group over the past sixteen months, including Gladwin Paint, Kayfield Paint, Refinish Solutions and Painter's Supply of Colorado.  The FOCUS Automotive Group specializes in representing collision repairers, paint and parts jobbers, dealers and related vendors in mergers and acquisitions as well as financing and strategic advice.
*These testimonials may not be representative of the experience of all clients; testimonials are not a guarantee of future performance or success.
About FOCUS Investment Banking LLC
With more than three decades of experience, FOCUS Investment Banking is a trusted name in M&A advisory services worldwide.  FOCUS works to understand each client's strategic and financial objectives, craft the best plan to achieve these goals, and deliver success.  Whether helping to sell, buy, or raise capital, FOCUS strives to maximize the value of every transaction to the benefit of its clients. Securities transactions conducted by FOCUS Securities LLC, an affiliated company, registered Broker Dealer member FINRA/SIPC. For more information on FOCUS, visit www.focusbankers.com/automotive.  Contact [email protected] or [email protected].