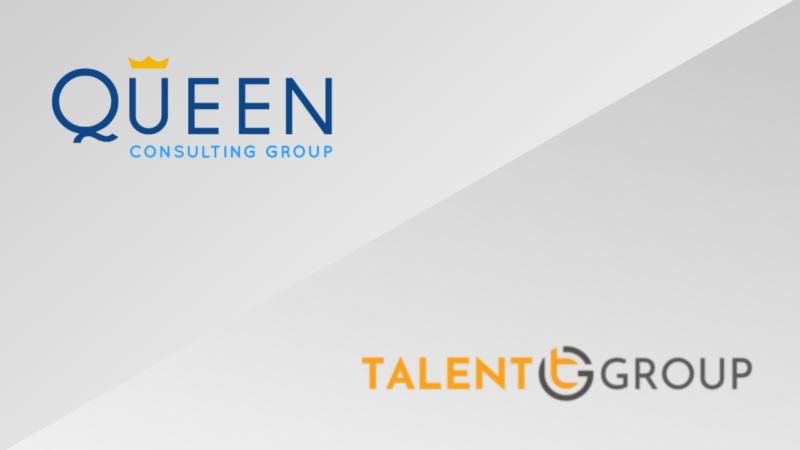 FOCUS Investment Banking Represents Queen Consulting Group in its sale to Talent Group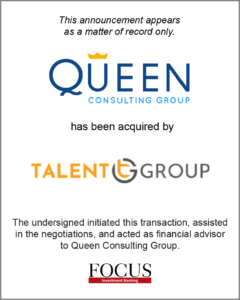 Washington, DC, (January 13, 2023) – FOCUS Investment Banking ("FOCUS"), a national middle market investment banking firm providing merger, acquisition, divestiture and corporate finance services, announced today that Queen Consulting Group ("Queen"), a nationally recognized IT staffing and consulting company specializing in healthcare and pharmaceutical IT, Epic electronic medical record (EMR) system implementations, financial services, and niche technical recruiting, has been acquired by Talent Group, a leading national IT staffing company. FOCUS represented Queen in this transaction.
Queen Consulting Group was founded in 2015 by staffing industry veteran Carl Foster, who has more than 30 years of IT staffing and consulting experience. Foster joins Talent Group's senior leadership team, along with Queen Vice Presidents Jessica Doherty and Amy Migliore.
"Queen Consulting Group delivers IT subject matter expertise, business intelligence and healthcare consulting support across all electronic health record (EHR) platforms, including Epic and other niche electronic systems, that allow health organizations to provide outstanding customer experiences," stated Matthew Ripaldi, CEO of Talent Group. "The addition of Queen Consulting to the Talent Group family presents a significant opportunity for us to expand our IT human capital services and solutions to a wider range of clients."
"The FOCUS team really knows their business, and they brought in multiple strong offers for us to consider. We really look forward to joining the Talent Group—the best fit for us," Foster said. "George Shea and Bob Maiden walked us through the process every step of the way, and highlighted our unique capabilities. We are thrilled with the result and wholeheartedly recommend FOCUS to any firm considering a sale."
"This follows the acquisition of EdgeLink last year and is the fourth acquisition since our initial investment in 2018," commented Michael Babb, Managing Partner of Osceola Capital, investors in Talent Group. "We continue to partner with, and are actively seeking, additional high-quality complementary firms to further expand our platform, while giving them the ability to scale rapidly and better support their client base. It was a pleasure working with the FOCUS team and we are very appreciative of them introducing us to Queen. We look forward to the partnership!"
"We were honored to represent a great company like Queen during this process," added George Shea, Managing Director of FOCUS. "Carl and his team worked with us in every way possible to get this transaction closed on schedule."
George Shea and Bob Maiden of FOCUS served as exclusive financial advisors to Queen Consulting Group throughout the transaction.