FOCUS Investment Banking Represents Painters Supply, Inc. In Its Acquisition by FinishMaster, Inc.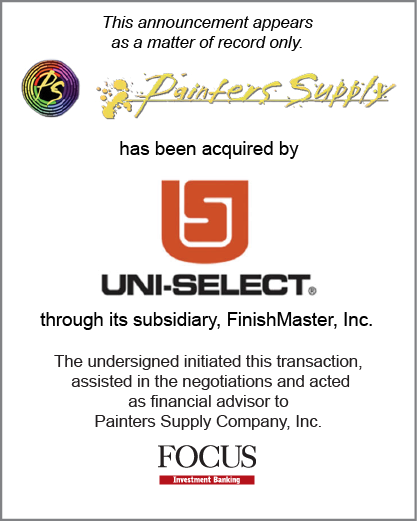 Washington, DC (August 3, 2015) – FOCUS Investment Banking LLC, a national middle market investment banking firm providing merger, acquisition, divestiture and corporate finance services announced today that Painters Supply, Inc. has been acquired by FinishMaster, Inc. FOCUS represented Painters Supply in the transaction.
Painters Supply, a PPG Platinum distributor, long respected as one of the paint distribution industry's true innovators, has grown over the past 15 years from a single location to become the largest jobber in Colorado.
FinishMaster, a subsidiary of Uni-Select, Inc. is the leading national independent distributor of automotive paints, coatings and related accessories in the United States. FinishMaster operates three major distribution centers with 168 branches and more than 1,400 teammates in 28 states.
Francis A. "Hecky" Heckendorf, President and CEO of Painter's Supply, commented, "This transaction was an important personal and strategic decision that will allow our Painter's Supply team to drive deeper penetration in the Colorado market." "Hecky" will continue to drive industry innovation as the CEO of Repair Plan Network (RPN), an independent provider of consulting and productivity services to collision repairers across the US and Canada.
Steve Arndt, President and COO of FinishMaster commented. "We are thrilled to have Painter's Supply and their team of professionals as new partners in the Colorado market. They have built a terrific company. We are excited to continue to grow the deep relationships they have developed across the state."
David Roberts, Group Leader of the Automotive Services practice at FOCUS and Managing Director, added, "Our firm is proud to have helped Painter's Supply find a great partner and helped create great value for its shareholders."
Rick Thomas, FOCUS Managing Director, noted, "With this acquisition of such a dominant and reputable distributor, FinishMaster is positioned for continued substantial success and growth across the region. FOCUS is pleased to have been able to help the Heckendorf family achieve its personal and professional goals and bring these two successful businesses together."
About FOCUS Investment Banking LLC
FOCUS Investment Banking LLC provides middle market investment banking services to entrepreneurs, corporate owners, and investors across a broad range of industries both domestically and worldwide. With offices in major cities across the US, FOCUS specializes in providing mergers, acquisitions, divestitures, and corporate finance services to business units with transactions or revenues in the $5-300 million range.
The Automotive Services Group at FOCUS specializes in representing collision repairers, paint and parts jobbers, dealers and related vendors. Securities transactions conducted by FOCUS Securities LLC, an affiliated company, registered Broker Dealer member FINRA/SIPC. For more information, visit www.focusbankers.com/automotive.