FOCUS Investment Banking Represents ncgCARE in Obtaining Growth Financing from NewSpring Mezzanine Capital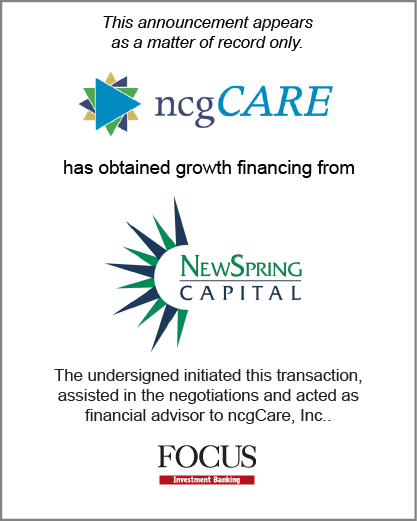 Atlanta, GA, (December 5, 2016) – FOCUS Investment Banking, a national middle market investment banking firm providing merger, acquisition, divestiture and corporate finance services, announced today that ncgCARE has obtained growth financing from NewSpring Mezzanine Capital.
ncgCARE is a national network of provider partners in behavioral healthcare. With over 900 employees across multiple partner companies, ncgCARE has provided behavior health services for over 40,000 individuals and families.  The ncgCARE partner network includes National Counseling Group, Turning Point Family CARE, Avenue to Wellness and Envision Counseling.
NewSpring Mezzanine Capital is a Small Business Investment Company partnering with business owners and financial sponsors to support growth, acquisitions and recapitalizations by providing capital solutions with mezzanine debt and equity. NewSpring tailors financial solutions to a business to meet its long-term strategic goals.
Frank Viera, President and CEO of ncgCARE, commented, "We are thrilled to enter a partnership with NewSpring. Both organizations have a strong commitment to achieving ncgCARE's long term goals.  FOCUS was a valuable member of our team by initiating the opportunity and helping us complete this transaction."
Added Bob Beard, FOCUS Managing Director, "FOCUS was honored to assist these two highly professional organizations in completing this transaction and feel both ncgCARE and NewSpring share common values and a keen sense of their respective goals."
Jonathan Wilfong, FOCUS Partner and Healthcare Team Leader, commented, "We've had the pleasure of putting two quality organizations together and working with them to close the transaction on schedule."
*These testimonials may not be representative of the experience of all clients; testimonials are not a guarantee of future performance or success.
About FOCUS Investment Banking
With more than three decades of experience, FOCUS Investment Banking is a trusted name in M&A advisory services worldwide.  FOCUS works to understand each client's strategic and financial objectives, craft the best plan to achieve these goals, and deliver success.  Whether helping to sell, buy, or raise capital, FOCUS strives to maximize the value of every transaction to the benefit of its clients. Securities transactions conducted by FOCUS Securities LLC, an affiliated company, registered Broker Dealer member FINRA/SIPC. For more information on FOCUS and its Healthcare and Life Sciences practice, visit www.focusbankers.com/health.