FOCUS Investment Banking Represents ncgCARE in its Purchase of Turning Point Family CARE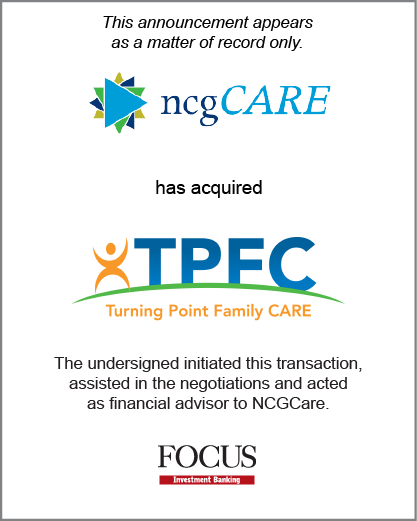 Atlanta, GA, (December 8, 2015) – FOCUS Investment Banking, a national middle market investment banking firm providing merger, acquisition, divestiture, and corporate finance services, announced today that ncgCARE has acquired Turning Point Family CARE. FOCUS represented ncgCARE in the transaction.
ncgCARE is a national network of provider partners in behavioral healthcare. With over 900 employees across multiple partner companies, ncgCARE has provided behavior health services for over 40,000 individuals and families.  The ncgCARE partner network includes National Counseling Group, Turning Point Family CARE, Avenue to Wellness and Envision Counseling.
Turning Point Family Care, located in Durham, North Carolina, is a Critical Access Behavioral Health Agency providing counseling services for both children and adults with mental health needs. Turning Point Family Care serves over 3,000 clients annually and employs over 100 mental health professionals.
Frank Viera, President and CEO of ncgCARE, commented, "We are thrilled to have the Turning Point Family Care team join the expanding ncgCARE network. Both organizations have a strong commitment to high quality, evidence based treatment that makes this acquisition a natural fit for our company.  We look forward to bringing our passion for excellence in behavioral healthcare to North Carolina.   FOCUS was a valuable member of our team and was instrumental in identifying the opportunity and helping us complete this transaction."
Added Michael McGregor, FOCUS Managing Director, "Turning Point fit all the criteria we established with our client ncgCARE for a successful acquisition.  We are proud to be a part of the ongoing professionalization of mental health services by helping providers achieve scale and financial strength to enhance best practices and improve outcomes."
Jonathan Wilfong, FOCUS Partner and Healthcare Team Leader, commented, "We've had the pleasure of putting two quality organizations together and working with them to close the transaction on schedule. We will continue to encourage smaller providers to realistically assess their strategic options as the industry and landscape become ever more demanding."
*This testimonial may not be representative of the experience of all clients; testimonials are not a guarantee of future performance or success.
About FOCUS Investment Banking
FOCUS Investment Banking provides a range of middle market investment banking services with an emphasis on mergers, acquisitions, divestitures, and corporate finance. FOCUS is a national firm with a global footprint, serving clients from offices in major cities across the United States. FOCUS specializes in serving clients with  transaction size or revenues in the $5-300 million range, representing  entrepreneurs, corporate owners and various types of investors across a broad range of industries, throughout the U.S. and worldwide. FOCUS bankers are seasoned operating and financial executives with extensive transaction experience. Securities transactions conducted by FOCUS Securities LLC, an affiliated company, registered Broker Dealer member FINRA/SIPC. For more information on FOCUS and its Healthcare and Life Sciences practice, visit www.focusbankers.com/health.