FOCUS Investment Banking Represents Lucidity Consulting Group In Its Acquisition by Emtec, Inc.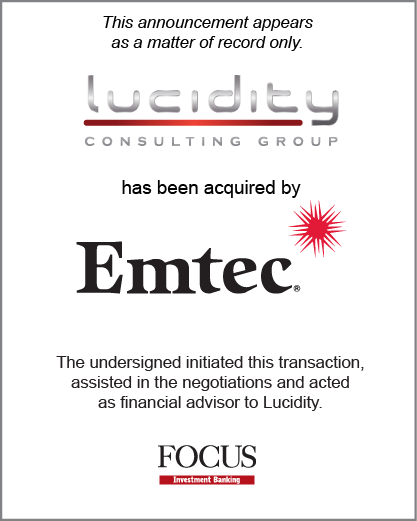 Washington, DC (April 14, 2015) – FOCUS Investment Banking, a national middle market investment banking firm providing merger, acquisition, divestiture and corporate finance services announced today that Emtec, Inc. has acquired Lucidity Consulting Group. FOCUS represented Lucidity Consulting Group in the transaction.
Lucidity Consulting Group, based in Irving, Texas, is an information technology consulting firm providing advisory, integration, and Managed Services across the Utilities and Manufacturing and Distribution sectors. Founded in 2001, Lucidity was started by experienced "Big 5" consultants intent on creating their own niche through implementation of "efficient consulting."
"We are excited about joining the Emtec family," said Bret Hatfield, EVP, Co-Founder, and Co-owner of Lucidity. "Emtec and Lucidity share a culture and a desire to continuously improve the level of service we offer our clients. This transaction provides the ability to offer additional value added services to our clients and assist them in their transformation to a Digital Enterprise."
Emtec, Inc., a leading consulting firm, provides industry specific transformative digital solutions to help world-class organizations leverage technology to achieve business objectives. Sunil Misra, President of Emtec, comments: "Emtec is on an aggressive growth path and we continue to look for firms that complement and enhance our primary service offerings. The Lucidity acquisition does both and significantly expands Emtec's presence in the U.S. Utility sector. Together we service over 100 clients in the Utilities and Manufacturing sectors, providing a wide range of solutions."
Manan Shah, FOCUS Partner, comments, "The combined entity under Emtec Consulting Services LLC offers an expanded range of consulting and Managed Services across key industry segments. With this acquisition, Emtec's global delivery model provides Lucidity's clients with added flexibility via a mix of onsite, onshore, and offshore resources. A win-win transaction!"
George Shea, FOCUS Partner and Information Technology Team Leader, added, "We are glad to have found Lucidity a highly compatible partner in Emtec. The strong interest we generated for this transaction is indicative of market conditions, particularly for IT Services firms with a vertical focus that are transitioning to a recurring revenue model through the introduction of Managed Services offerings."
*These testimonials may not be representative of the experience of all clients; testimonials are not a guarantee of future performance or success.
About FOCUS LLC
FOCUS LLC provides a range of middle market investment banking services with an emphasis on mergers, acquisitions, divestitures and corporate finance. FOCUS is a national firm serving clients from offices in major cities across the United States.  FOCUS specializes in business units with transactions or revenues in the $5-300 million range, serving entrepreneurs, corporate owners and various types of investors across a broad range of industries, throughout the U.S. and worldwide. FOCUS bankers are seasoned operating and financial executives with extensive transaction experience. Securities transactions conducted by FOCUS Securities LLC, an affiliated company, registered Broker Dealer member FINRA/SIPC. For more information on FOCUS, visit www.focusbankers.com.