FOCUS Investment Banking Represents Lockstep in Recapitalization
IT Investment Banking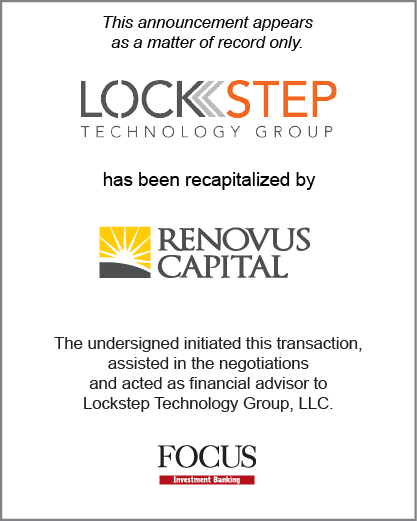 Washington, DC (December 5, 2017) – FOCUS Investment Banking, a national middle market investment banking firm providing merger, acquisition, divestiture and corporate finance services announced that Lockstep Technology Group has been recapitalized by Renovus Capital Partners. FOCUS represented Lockstep Technology Group in the transaction.
Founded in 2008 and headquartered in Duluth, GA, Lockstep is a leading technology services firm serving the education, government, and professional services industries. The Company's "customer-as-a-partner" approach provides end-to-end solutions, from assessment and design to cloud migration and managed services, to enable their clients to focus on their core business and not the IT landscape. Lockstep has grown to be a trusted advisor in its market through the high caliber of its work, problem solving approach and focus on client satisfaction.
Lockstep is led by the three founding partners, Ken Dreon, Scott Anctil, and James Harden. Together the trio brings over 60 years of technology engineering excellence and is supported by a team of experienced engineers with diverse IT backgrounds. The entire team will continue to operate the Company following the transaction.
Renovus Capital Partners, founded in 2010, is an education, training and human capital focused private equity firm. Renovus is based outside of Philadelphia and manages $485 million of committed capital through two SBIC funds. To date, the firm has acquired seventeen portfolio companies specializing in areas such as educational technology, educational content, traditional education, corporate consulting and training, and human capital. The firm is an active investor in profitable and growing enterprises where the Renovus team, in partnership with management, seeks to create value through operational improvements, strategic growth initiatives and acquisitions
Atif Gilani, a Founding Partner of Renovus, commented, "This is our second successful collaboration with Manan Shah and the FOCUS Investment Banking team this year. My partners and I have been impressed with FOCUS' industry relationships and expertise, understanding of creative deal structures and their problem-solving approach to complex transactional issues."
According to Manan Shah, FOCUS Partner, "Lockstep is at an exciting place in the market place given their strong competency in the IT security and presence in the education and state & local government sector. Through their partnership with Renovus, they will be able to execute on their growth plans to become a market leader in the IT infrastructure security space and we are very pleased to be part of this transaction."
According to George Shea, FOCUS Partner, "We are pleased to have found a perfect partner for our client. The Lockstep team has proven to be a highly innovative group that has constantly adapted to changing customer needs.  They are an emerging leader in a fast-growing market."
*These testimonials may not be representative of the experience of all clients; testimonials are not a guarantee of future performance or success.