FOCUS Investment Banking represents ICAPE GROUP in its Acquisition of DIVSYS International, LLC — Cross-border transaction in the Advanced Automation Industry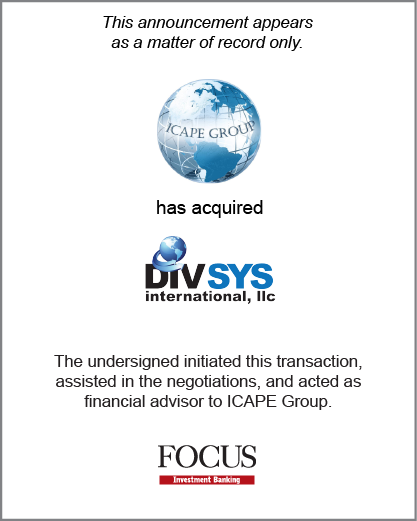 Washington, DC, (September 14, 2018) – FOCUS Investment Banking, a national middle market investment banking firm providing merger, acquisition, divestiture, and corporate finance services, announced today that ICAPE LLC, the US arm of the ICAPE Group has acquired DIVSYS International, LLC. FOCUS represented ICAPE Group in this transaction.
Since 1999, ICAPE Group, headquartered just outside of Paris, France, has been producing printed circuit boards and customized technical parts that they manufacture in China. Their team of 320 people worldwide and 75 strategic partners in Asia deliver 20 million printed circuit boards and 5 million technical parts each month. In more than 70 countries, 1500 customers trust their quality products and services.
DIVSYS, a woman-owned company, located in Indianapolis, Indiana, employs a technical staff expert in the design, fabrication and testing of printed circuit boards. The DIVSYS team has been together for many years and brings an unparalleled reputation to this critical element of the PCB business.
According to Thierry Ballenghien, Chairman of ICAPE GROUP, "DIVSYS and ICAPE Group have very complementary activities, especially for the North American market. Our two very professional teams have been dreaming about bringing both machines together.  Now it is done and will benefit our customers, suppliers and employees."
Gerald Turner, FOCUS Senior Advisor commented, "This acquisition brings together two strong names in the PCB business in the US, auguring accelerated growth for ICAPE LLC, complementing  the Group's worldwide presence."
John Bradshaw, FOCUS Managing Partner said, "The talent at both companies will make ICAPE a formidable presence in the North American PCB market allowing for continued worldwide growth."
"This transaction was a testament to cross border cooperation between M&A World Wide members Active M&A of Dusseldorf, Germany and FOCUS Investment Banking, based in Washington, DC," remarked Doug Rodgers, FOCUS Managing Partner and CEO.
*These testimonials may not be representative of the experience of all clients; testimonials are not a guarantee of future performance or success. 
About FOCUS Investment Banking LLC
With more than three decades of experience, FOCUS Investment Banking is a trusted name in M&A advisory services worldwide. FOCUS works to understand each client's strategic and financial objectives, craft the best plan to achieve these goals, and deliver success. Whether helping to sell, buy, or raise capital, FOCUS strives to maximize the value of every transaction to the benefit of its clients. Securities transactions conducted by FOCUS Securities LLC, an affiliated company, registered Broker Dealer member FINRA/SIPC. For more information on FOCUS and its advanced automation practice, please visit www.focusbankers.com/automation.