FOCUS Investment Banking represents Gladwin Paint Company in its acquisition by FinishMaster (Uni-Select, Inc.)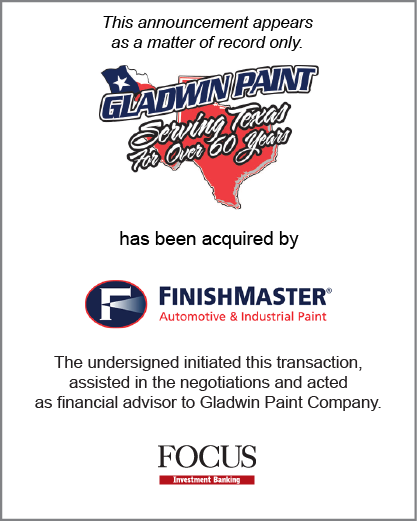 Washington, DC (May 2, 2016) – FOCUS Investment Banking, a national middle market investment banking firm providing merger, acquisition, divestiture and corporate finance services announced today that Gladwin Automotive Paint and its eight locations have been acquired by FinishMaster, Inc, a subsidiary of Uni-Select, Inc. (TSE:UNS).  FinishMaster is the leading national independent distributor of automotive paints, coatings and related accessories in the United States. FOCUS represented Gladwin in the transaction, which is one of the largest ever in the jobber industry.
Gladwin is located throughout Texas with over 130 employees, providing automotive refinish paints and supplies as well as comprehensive training, consulting and software services. Larry Pyle, Gladwin President and CEO commented, "Finding a new home with FinishMaster will allow our team to continue its rapid growth and provide enhanced services and value to our customers. FOCUS helped provide a deal beneficial to all parties involved after years of hard work by all of our teammates and partners over decades of building the business. FinishMaster was a great partner throughout the acquisition process as well."
David Roberts, Managing Director and Automotive Group team leader for FOCUS Investment Banking, commented, "FOCUS is proud to have assisted Gladwin in successfully achieving this impressive liquidity event.  As one of the premier jobbers in the US, they have demonstrated how to grow and adapt in a rapidly changing industry."
Managing Director, Rick Thomas, who led the transaction for FOCUS added, "Larry Pyle, Layla Maus and the entire Gladwin team really impressed us with their professionalism, drive and knowledge."
Gladwin Paint Company is the latest in a number of high profile paint jobber transactions represented by FOCUS, including Kayfield Automotive of Delaware, Painter's Supply of Colorado and Refinish Solutions of Virginia.
About FOCUS Investment Banking LLC
FOCUS Investment Banking LLC provides middle market investment banking services to entrepreneurs, corporate owners, and investors across a broad range of industries both domestically and worldwide. With offices in major cities across the US, FOCUS specializes in providing mergers, acquisitions, divestitures, and corporate finance services to business units with transactions or revenues in the $5-300 million range.
The Automotive Services Group at FOCUS specializes in representing collision repairers, paint and parts jobbers, dealers and related vendors. Securities transactions conducted by FOCUS Securities LLC, an affiliated company, registered Broker Dealer member FINRA/SIPC.
For more information, visit www.focusbankers.com/automotive.  Contact [email protected] or [email protected].