FOCUS Investment Banking Represents Forgentum, Inc. In its Acquisition by Fulcrum IT Services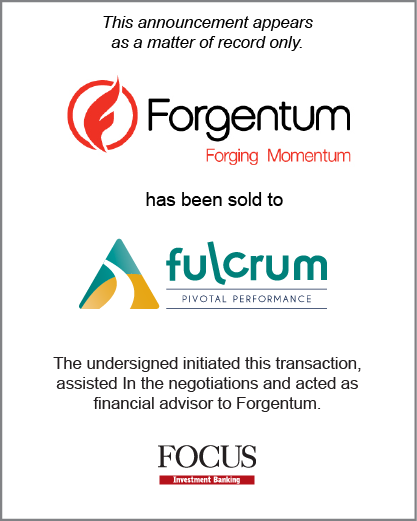 Washington, DC (February 28, 2014) – FOCUS Investment Banking, a national middle market investment banking firm providing merger, acquisition, divestiture and corporate finance services announced today that Forgentum, Inc. was acquired by Fulcrum IT Services, LLC. FOCUS represented Forgentum in the transaction.
Forgentum was founded in 2007 by individuals that spent most of their professional careers in and around military health. Forgentum complements and expands Fulcrum's healthcare services including direct support to the Department of Defense (DoD) Military Health Systems (MHS) Healthcare Artifact and Image Management Solution (HAIMS) as well as the Defense Health Clinical System (DHCS) that provides information management and solutions that capture, manage and share healthcare data for the military's worldwide Electronic Health Record (EHR). The acquisition adds to Fulcrum's current portfolio of key clients including the TRICARE Management Activity (TMA), EHR Core (formerly DHIMS), and the Enterprise Infrastructure (formerly MCiS). Forgentum provides direct experience with the majority of DoD healthcare solutions including AHLTA, CHCS, and HAIMS as well as current work supporting interfaces to the VA's Veterans Health Information Systems and Technology Architecture (VistA).
According to Lyn Hurd, Forgentum CEO and co-founder, "We are very excited about this new chapter. Fulcrum's culture and history of performance in DoD application development, integration and operational support are well known. Joining Fulcrum will open additional opportunities for our employees and will allow us to expand our solutions. We are thankful for FOCUS' advice and support in making this transition run as smoothly as it did."
Fulcrum is a leading technology company based in Centreville, Virginia that provides pivotal solutions and services primarily for federal customers in the defense, intelligence, education and healthcare sections levering Software and Systems Development, Cloud Computing, Data Management, CyberSecurity, Data Fusion and Advanced Technology and Research.
Eric Oganesoff, FOCUS Managing Director comments, "The acquisition of Forgentum provides Fulcrum with a key player in building the largest electronic health records system in the world through the work Forgentum is doing to help integrate the Defense Department and Veteran Affairs systems."
Manan Shah, FOCUS Partner and Government, Aerospace and Defense Team Leader, comments, "Healthcare IT continues to be one of the most active areas within government contractors from M&A perspective. While the larger players have been active acquirers for a while in this sector, mid size players such as Fulcrum are also stepping up their efforts, presenting more opportunities for other healthcare IT firms."
About FOCUS LLC
FOCUS LLC provides a range of middle market investment banking services with an emphasis on mergers, acquisitions, divestitures and corporate finance. FOCUS is a national firm serving clients from offices in major cities across the United States. FOCUS specializes in business units with transactions or revenues in the $5-300 million range, serving entrepreneurs, corporate owners and various types of investors across a broad range of industries, throughout the U.S. and worldwide. FOCUS bankers are seasoned operating and financial executives with extensive transaction experience. Securities transactions conducted by FOCUS Securities LLC, an affiliated company, registered Broker Dealer member FINRA/SIPC. For more information on FOCUS, visit focusbankers.com.