FOCUS Investment Banking Represents Five Talent in Sale to Effectual
IT Investment Banking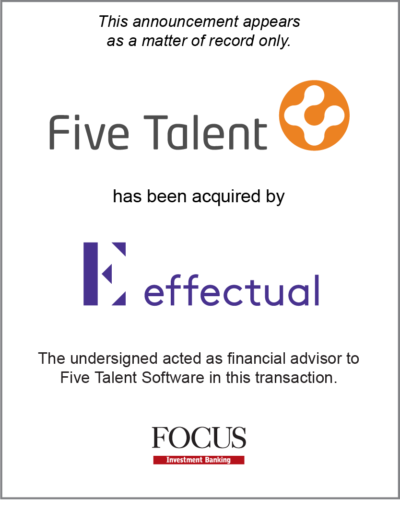 Washington, DC, (June 24, 2020)— FOCUS Investment Banking, a national middle market investment banking firm providing merger, acquisition, divestiture, and capital raising services, announced today that Five Talent has been acquired by Effectual.  The acquisition will allow both firms to combine their individual expertise and deliver a full suite of services to clients on their IT modernization journeys.
Headquartered in Bend, OR, Five Talent is a technology consulting firm that specializes in custom software modernization and development. Five Talent uses DevOps methodologies to help its clients design, develop and architect applications. The acquisition by Effectual, a cloud and security management and professional services company, will strengthen the combined firm's DevOps and cloud native application development services.
"Effectual and Five Talent have been working as partners on a number of engagements with our mutual customers," said Robb Allen, CEO, Effectual. "Simply put, we believe we can accomplish more together as one company, delivering a complete suite of services for modernizing, securing and ensuring the continuous compliance of mission critical applications and workloads for our customers. We will leverage our combined experience, resources, skill sets and geographic reach, to continue to execute on our vision to be the leader in IT modernization services for commercial enterprises and the public sector."
"Working through an uncertain economic climate, both the Five Talent and Effectual management teams showed an exceptional level of commitment to bring their two firms together.   It is a great fit in every respect, and highlights that there is continuing demand for great business partnerships in this space," said Craig Ladkin, FOCUS Managing Director.
Reflecting on FOCUS' representation during the transaction, Five Talent CEO Preston Callicott said, "We were extremely pleased with our FOCUS Bankers team, Craig Ladkin and John Bradshaw.  Their input was invaluable and enabled us to provide timely professional responses and feedback to our buyer throughout the process. Their deep experience in transactions similar to ours was evident on every call and meeting.  We highly recommend FOCUS Bankers as your trusted investment banker for your next M&A engagement."
About Effectual
Effectual, an AWS Premier Consulting Partner, is an innovative, cloud first, security first managed and professional services company that works with commercial enterprises and the public sector to enable IT modernization and mitigate risk. A deeply experienced and passionate team of problem solvers apply proven methodologies to business challenges across Amazon Web Services and VMware Cloud on AWS. Effectual is backed by Catalyst
Investors and Lumerity Capital, private equity firms focused on investments in cloud and data infrastructure. Effectual is a member of the Cloud Security Alliance, and the PCI Security Standards Council and is based in Hoboken, NJ. www.effectual.com
About Five Talent
Five Talent is a technology consulting firm with deep expertise in diverse technology platforms and languages. The firm holds Amazon Web Services (AWS) DevOps, SaaS and Mobile Competencies and recently surpassed the AWS 50 Certified milestone, placing it among the most experienced in the AWS partner ecosystem.  Five Talent also offers custom software development services, IoT, mobile apps, digital engagement, cloud-based security, and cloud migration services. The firm is headquartered in Bend, OR with additional offices in Portland, OR and Seattle, WA. www.fivetalent.com