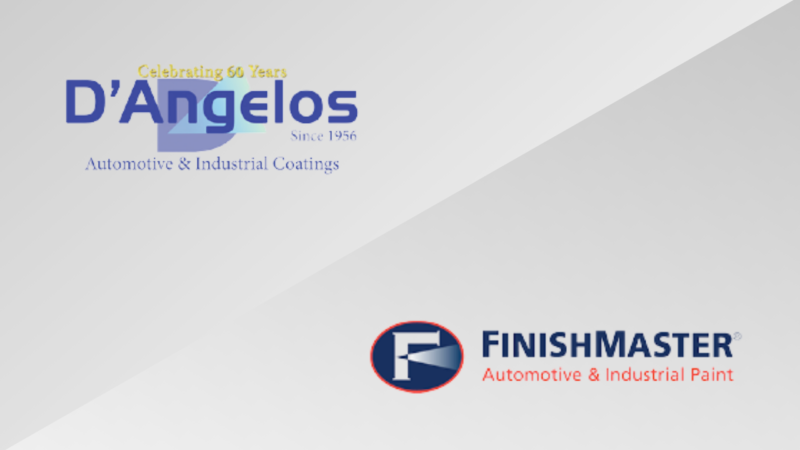 FOCUS Investment Banking Represents D'Angelos Automotive and Industrial Coatings, Inc. in its Sale to FinishMaster/Uni-Select
Transaction is second largest acquisition in refinish paint distribution industry.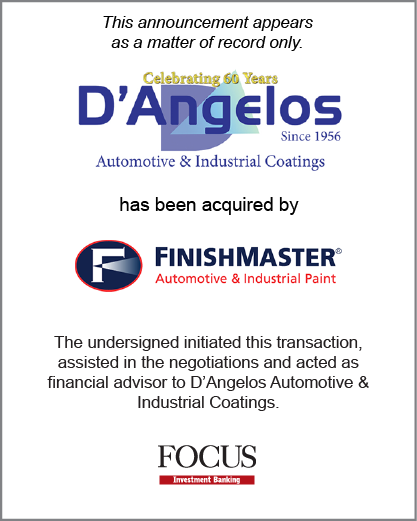 Washington, DC (January 31, 2017) -- FOCUS Investment Banking, the leading advisory and intermediary firm in the automotive services sector, is proud to announce that D'Angelos Automotive and Industrial Coatings and its 14 locations have been acquired by FinishMaster, Inc, a subsidiary of Uni-Select, Inc. (TSE:UNS).  FinishMaster is the largest national independent distributor of automotive paints, coatings and related accessories in the United States.
D'Angelos was represented by FOCUS Automotive Group in its sixth multi-location paint distributor transaction in the last 18 months.  David Roberts, Managing Director at FOCUS commented, "Bob and Art D'Angelo built one of the largest paint distributors in the US over the last 45 years by successfully adapting to changes in the distribution industry, continuously investing in people, systems and their customers."
President and Co-Owner Bob D'Angelo stated, "We've always been at the leading edge of paint distribution. As we looked down the road at our continued growth plans, we recognized that the strength and resources of Finishmaster would enable us to both compete effectively and continue to provide customers with our high standard of service in this challenging environment."
"The decision to sell wasn't just about meeting the owners' needs and goals but also taking care of employees and continuing the core values of the company." observed Managing Director Rick Thomas, who led the transaction for FOCUS.
*These testimonials may not be representative of the experience of all clients; testimonials are not a guarantee of future performance or success.
About D'Angelos Paint
Arthur "Art" D'Angelo Sr. purchased Acme Paint Company in 1956, adopting the name "D'Angelos and Sons" in 1965. Since that time, the Company has grown to eleven locations in California including a wholesale warehouse as well as three locations in Nevada and Arizona. Primarily operating in the automotive refinish segment, the firm also has a significant presence in the industrial coatings sector.
About FOCUS Investment Banking LLC
With more than three decades of experience, FOCUS Investment Banking is a trusted name in M&A advisory services worldwide.  FOCUS works to understand each client's strategic and financial objectives, craft the best plan to achieve these goals, and deliver success.  Whether helping to sell, buy, or raise capital, FOCUS strives to maximize the value of every transaction to the benefit of its clients. Securities transactions conducted by FOCUS Securities LLC, an affiliated company, registered Broker Dealer member FINRA/SIPC.
For more information on FOCUS and its Automotive practice, visit www.focusbankers.com/automotive. Contact [email protected] or [email protected].