FOCUS Investment Banking Represents Collision Care Auto Body Centers In Its Acquisition by Caliber Collision Centers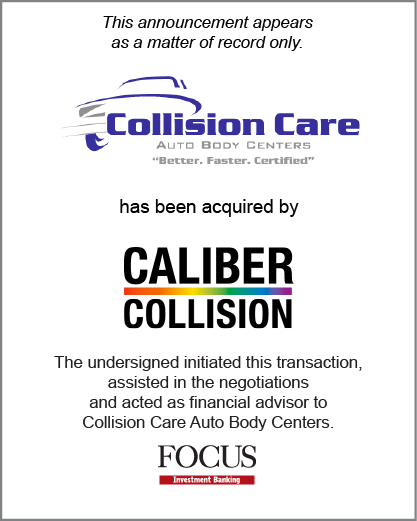 Washington, DC (June 20, 2016) – FOCUS Investment Banking LLC, a national middle market investment banking firm providing merger, acquisition, divestiture and corporate finance services announced today that seven Collision Care Auto Body Centers have been acquired by Caliber Collision Centers. FOCUS represented Collision Care in the transaction.
Collision Care is the Philadelphia area's premier location for collision repair and auto body restoration while Caliber Collision Centers is the largest collision repair company in the U.S.
The acquisition adds Val Fichera, Collision Care's CEO and Body Shop Business' 2015 MSO Collision Repair Executive of the Year, along with his highly-skilled six-sigma management staff to the Caliber team, and immediately gives Caliber a significant presence in and around Philadelphia.
"It's exciting to take the next step with the Collision Care organization.  When I took over the business more than 20 years ago we were just one shop. I've been aggressive and we have grown rapidly since. Our whole team is looking forward to having even more success with the resources Caliber brings," said Fichera who is joining the Caliber Collision team as the Northeast Director for PA, NJ and NY.
David Roberts, Managing Director and FOCUS Investment Banking Automotive Group Leader, who led the engagement for FOCUS, saw Collision Care and Caliber as ideal partners.  He stated, "Val set a very high bar for service quality and wanted an acquirer who would continue that quality commitment. Caliber not only establishes itself as a significant player in the greater Philadelphia market, but does so with a rapidly growing operation with a superb track record of client and customer satisfaction. This is a win for both parties."
The Collision Care acquisition represents the most recent sale of high-profile collision repair industry companies by FOCUS, including Keenan Auto Body, B&R Auto Body, Gladwin Paints, Kayfield Automotive Paint, Aquia Auto Parts and others.
About FOCUS Investment Banking LLC
FOCUS Investment Banking LLC provides middle market investment banking services to entrepreneurs, corporate owners, and investors across a broad range of industries both domestically and worldwide. With offices in major cities across the US, FOCUS specializes in providing mergers, acquisitions, divestitures, and corporate finance services to business units with transactions or revenues in the $5-300 million range. The Automotive Services Group at FOCUS specializes in representing collision repairers, paint and parts jobbers, dealers and related vendors. Securities transactions conducted by FOCUS Securities LLC, an affiliated company, registered Broker Dealer member FINRA/SIPC. For more information, visit www.focusbankers.com/automotive or contact [email protected] or [email protected].