FOCUS Investment Banking Represents Aspen Media and Market Research In Its Acquisition by Global Interactive Services, Inc.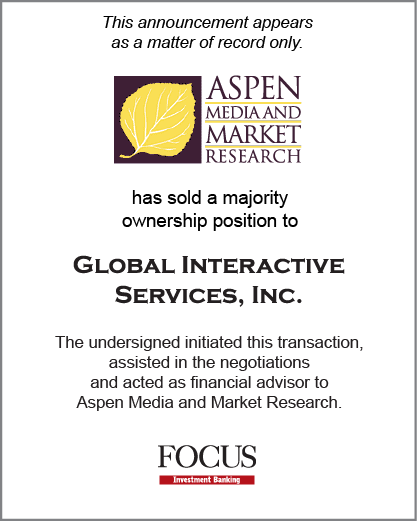 Washington, DC (April 6, 2015) – FOCUS Investment Banking, a national middle market investment banking firm providing merger, acquisition, divestiture and corporate finance services announced today that Global Interactive Services, Inc. has acquired a majority position in Aspen Media and Market Research. FOCUS represented Aspen Media and Market Research in the transaction.
Aspen Media and Market Research helps businesses collect and disseminate data in order to reach important business goals. Services include raw data collection, statistical software evaluation, circulation, sales lead qualification, relational database creation and list consolidation, and print-to-electronic file conversion.
According to Hank Schaller, Aspen's CEO, "FOCUS helped find the buyer and worked with our team in completing this transaction. I look forward to our firm's long term prospects with Global Information Services."
Global Interactive Services, Inc. is a Florida based BPO services organization with operational capacities in Nashville, TN and Guatemala City, Guatemala. The enterprise is lead by Scott Gorman who through M&A activities and organic growth efforts has built successful BPO organizations that deliver services to both US and international clients. He comments, "The Aspen acquisition is a significant step in our strategic plan over the next three years. We are excited about the opportunities that our combined resources will generate, and look forward to working with FOCUS on other acquisition opportunities."
John Bradshaw, FOCUS Managing Partner comments, "This acquisition delivers great value for both companies as they take advantage of the management capabilities as well as the strong infrastructure that both firms bring to the combined company."
*These testimonials may not be representative of the experience of all clients; testimonials are not a guarantee of future performance or success.
About FOCUS LLC
FOCUS LLC provides a range of middle market investment banking services with an emphasis on mergers, acquisitions, divestitures and corporate finance. FOCUS is a national firm serving clients from offices in major cities across the United States.  FOCUS specializes in business units with transactions or revenues in the $5-300 million range, serving entrepreneurs, corporate owners and various types of investors across a broad range of industries, throughout the U.S. and worldwide. FOCUS bankers are seasoned operating and financial executives with extensive transaction experience. Securities transactions conducted by FOCUS Securities LLC, an affiliated company, registered Broker Dealer member FINRA/SIPC. For more information on FOCUS, visit www.focusbankers.com.