FOCUS Investment Banking Represents Aquia Auto Parts Company, Inc. dba Refinish Solutions In Its Acquisition by FinishMaster, Inc.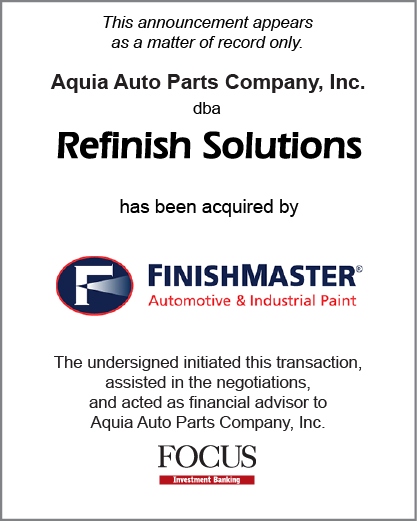 Washington, DC (December 8, 2015) – FOCUS Investment Banking, a national middle market investment banking firm providing merger, acquisition, divestiture and corporate finance services announced today that Aquia Auto Parts Company, Inc. dba Refinish Solutions has entered into an agreement to be acquired by FinishMaster, Inc., a subsidiary of Uni-Select, Inc. (TSE:UNS). FOCUS represented Refinish Solutions in the transaction.
Refinish Solutions, a PPG Platinum distributor with two locations in the Washington DC market, has distinguished itself over the past 13 years as one of the most rapidly growing paint jobbers in the nation.
FinishMaster, a subsidiary of Uni-Select, Inc., is the leading national independent distributor of automotive paints, coatings and related accessories in the United States. FinishMaster operates three major distribution centers with 170 branches and more than 1,400 teammates in 28 states.
Daryl Flynn, President of Refinish Solutions, commented, "This transaction has been the culmination of a well considered strategic process that has enabled our team to achieve important personal and corporate goals.  With our new partner, we have renewed opportunity that will allow our team to increase its market penetration and deliver more value to our customers."
"The Refinish Solutions team shares our core values, empowering their employees and customers to pursue growth and learning. Their commitment to work as a team matches our commitment to continually earn our customers' loyalty through exceptional service provided by dedicated employees who are rewarded for their personal and professional contributions," stated Steve Arndt, President and COO of FinishMaster.
David Roberts, Group Leader of the Automotive Services practice at FOCUS and Managing Director, added, "Our firm is proud to have represented another fast growing, well positioned jobber find a great partner and create terrific value for its shareholders."
Rick Thomas, FOCUS Managing Director, noted, "Working with Daryl in a disciplined, focused process helped our entire team bring these two successful businesses together and create new opportunities for both."
About FOCUS Investment Banking LLC
FOCUS Investment Banking LLC provides middle market investment banking services to entrepreneurs, corporate owners, and investors across a broad range of industries both domestically and worldwide. With offices in major cities across the US, FOCUS specializes in providing mergers, acquisitions, divestitures, and corporate finance services to business units with transactions or revenues in the $5-300 million range.
The Automotive Services Group at FOCUS specializes in representing collision repairers, paint and parts jobbers, dealers and related vendors. Securities transactions conducted by FOCUS Securities LLC, an affiliated company, registered Broker Dealer member FINRA/SIPC. For more information, visit www.focusbankers.com/automotive.