FOCUS Investment Banking Represents AlphaLit in Merger with LDiscovery, LLC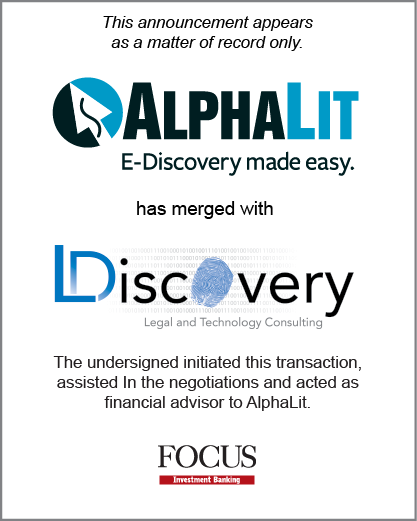 Washington, DC (August 14, 2013) - FOCUS, a national middle market investment banking firm providing merger, acquisition, divestiture and corporate finance services, announced that AlphaLit has merged with LDiscovery. FOCUS represented AlphaLit in the transaction. Drinker Biddle & Reath served as legal counsel for AlphaLit and Hogan Lovells represented LDiscovery.
AlphaLit, based in Huntingdon Valley, PA, is a recognized leader of litigation support services for large corporations and prestigious law firms. Having set the standard for discovery document management nearly 25 years ago, AlphaLit continues to lead this industry with massive processing capacity and cutting edge technology.
LDiscovery, established in 2005 and headquartered in McLean, VA, provides a full range of legal and technology consulting services to law firms, corporations and government agencies. Comprised of attorneys, engineers, computer forensic and litigation support professionals, LDiscovery is a leader in delivering end-to-end E-Discovery solutions that support their client's litigation, regulatory compliance or internal investigation needs.
According to Brett Griffith, President of Alpha Systems, "We are pleased that AlphaLit is joining forces with LDiscovery, one of the fastest growing full service E-Discovery companies in North America. The combination of AlphaLit and LDiscovery will provide both companies' clients access to broader and deeper service offerings."
AlphaLit will maintain its brand name and continue to operate its electronic processing, project management and E-Direct web hosting operations in Huntingdon Valley while leveraging LDiscovery's forensic data collection, Relativity web hosting, analytics, and managed review expertise.
*These testimonials may not be representative of the experience of all clients; testimonials are not a guarantee of future performance or success.
About FOCUS LLC
FOCUS LLC provides a range of middle market investment banking services with an emphasis on mergers, acquisitions, divestitures and corporate finance. FOCUS is a national firm serving clients from offices in major cities across the United States. FOCUS specializes in business units with transactions or revenues in the $5-300 million range, serving entrepreneurs, corporate owners and various types of investors across a broad range of industries, throughout the U.S. and worldwide. FOCUS bankers are seasoned operating and financial executives with extensive transaction experience. Securities transactions conducted by FOCUS Securities LLC, an affiliated company, registered Broker Dealer member FINRA/SIPC. For more information on FOCUS, visit www.focusbankers.com.
* Testimonials may not be representative of the experience of all clients; testimonials are not a guarantee of future performance or success.