FOCUS Investment Banking Represents Alpha Systems in its Acquisition by DataBank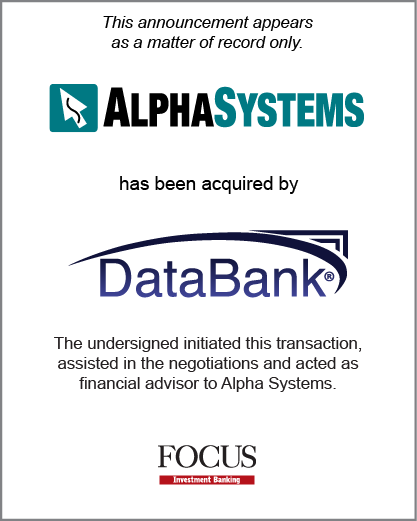 Washington, DC (December 1, 2014) – FOCUS Investment Banking, a national middle market investment banking firm providing merger, acquisition, divestiture and corporate finance services, announced today that Alpha Systems was acquired by Databank IMX, LLC. FOCUS represented Alpha Systems in the transaction.
"The market for healthcare IT companies is very active and we expect this activity to accelerate as technology is brought to bear for cost reduction and process improvement throughout the healthcare space," noted Rick Thomas, Managing Director at FOCUS.
Alpha Systems has served the healthcare community for nearly 40 years with the goal of proactively improving a hospital's financial outcome by using technology to maximize ROI. They are a leading provider of Electronic Document Management solutions to hospitals and health systems, playing a large role in the improvement of their revenue cycle. Alpha Systems' SaaS-delivered EDM systems for healthcare organizations deliver billions of page views and terabytes of data each year to nearly 75,000 healthcare users.
Brett Griffith, President of Alpha Systems said, "We are grateful for the expertise and professionalism that FOCUS brought to this transaction. They understand the needs of both buyers and sellers and ensured that the transaction went as smoothly as possible."
DataBank (DataBankIMX.com) is an industry leader in Business Process Automation, providing Workflow & Enterprise Content Software solutions, document management and document conversion services with eleven state-of-the-art production centers nationwide.
"Alpha Systems will become the healthcare division of Databank and leverage its existing 200,000sq/ft. facilities in Pennsylvania. It's an acquisition that serves both businesses and the healthcare industry well," commented FOCUS' CEO, Doug Rodgers.
*These testimonials may not be representative of the experience of all clients; testimonials are not a guarantee of future performance or success.