FOCUS Investment Banking Ranks #1 in Axial's Top 20 Lower Middle Market Investment Banks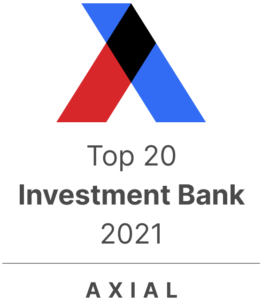 Washington, DC, (October 12, 2021) – FOCUS Investment Banking ("FOCUS"), a national middle market investment banking firm providing merger, acquisition, divestiture, and corporate finance services is pleased to be among Axial's Top Lower Middle Market M&A advisors for Q3 2021.
Axial is the trusted deal platform serving the lower middle market ($5-$250M TEV). Over 3,500 advisory firms and 1,800 corporate and financial buyers have joined Axial to efficiently connect with relevant capital partners, source actionable deals, and build new relationships.
Axial's investment banking league tables rank sell-side M&A advisors based on their Axial activity, incorporating three core M&A advisory attributes: client quality, buy-side targeting, and deal process effectiveness. 865 investment banks brought deals to market using Axial in Q3.
"FOCUS is honored to be recognized as #1 on Axial's Top 20 Lower Middle Market Investment Banks. Supporting our clients is our first priority and Axial's platform helps in that goal." said Kahla Cooper, FOCUS Director of Marketing.
About FOCUS Investment Banking
With more than three decades of experience, FOCUS Investment Banking is a trusted name in middle market M&A advisory services worldwide. Whether helping to sell, buy, or raise capital, FOCUS strives to maximize the value of every transaction for the benefit of its clients. Securities transactions conducted by FOCUS Securities LLC, an affiliated company, registered Broker Dealer member FINRA/SIPC. For more information, visit www.focusbankers.com.
*These testimonials may not be representative of the experience of all clients; testimonials are not a guarantee of future performance or success.