FOCUS Investment Banking Advises AirVault in Strategic Sale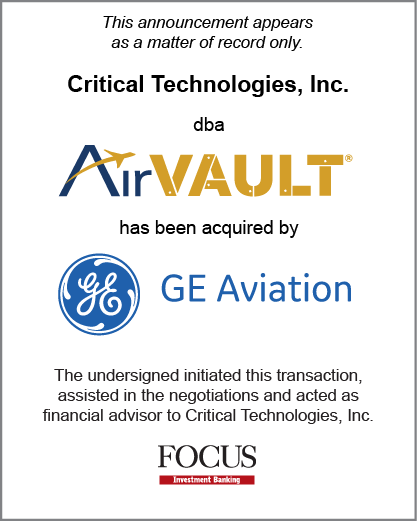 We are pleased to announce the sale of our client Critical Technologies, Inc. (dba AirVault), in the transaction described below.  AirVault provides its patented electronic records management solutions to airlines worldwide. FOCUS has provided strategic advice to the company for nearly a decade, which now has resulted in this compelling transaction with one of the world's most well-known and highly regarded companies.

John Frick, Chairman of AirVault said, "The strategic fit provided by this transaction is exceptional; our acquirer counts nearly every airline in the world in its customer base, which provides an exciting growth path for the business. The FOCUS team has been a valuable partner to us over the years, and we would not be celebrating this transaction without their help and guidance."
About FOCUS Investment Banking LLC
With more than three decades of experience, FOCUS Investment Banking is a trusted name in M&A advisory services worldwide.  FOCUS works to understand each client's strategic and financial objectives, craft the best plan to achieve these goals, and deliver success.  Whether helping to sell, buy, or raise capital, FOCUS strives to maximize the value of every transaction to the benefit of its clients. Securities transactions conducted by FOCUS Securities LLC, an affiliated company, registered Broker Dealer member FINRA/SIPC. For more information on FOCUS, visit www.focusbankers.com.
---
GE Aviation Acquires Leader in Digital Records Management
Austin, TX | March 27, 2017 - GE Aviation announced today that it has acquired Critical Technologies, Inc., branded as AirVault®, a privately-owned supplier of cloud-based digital records management.  AirVault's expertise to digitally manage mission-critical records across an industrial supply chain network strengthens GE's ability to focus on asset lifecycle management and maintenance optimization for the aviation industry.
"Our focus is to help our customers and the overall industry to be more efficient," said Jim Daily, vice president and chief digital officer for GE Aviation.  "The acquisition of AirVault combines some of the best people and records management capability with GE's domain expertise in flight analytics and engine diagnostics to bring disparate data together to drive operational efficiencies."
The combination of AirVault and GE will further enable web-based fleet maintenance records management across the aviation ecosystem with GE's Configuration Data Exchange.  The ability to connect records and data across aviation companies and the IT systems they use to manage their fleets will drive productivity and data availability.  Coupled with GE's Predix industrial cloud platform, this further strengthens the team in developing meaningful insights and optimizing operations over a wide range of aviation applications.
"This is great news for our employees and our customers," said AirVault CEO John Oldham. "Customers will continue to benefit from the same expertise and service for which we are known, while the strength of GE provides a platform for future innovation and growth. The addition of the Enterprise Content Management service with Predix delivers document management, business process, and data analytics to organizations requiring high levels of performance and compliance."
AirVault, with data center operations in Dallas and Oklahoma City, is a leading provider of ECM applications for global enterprises that require mission-critical performance, exacting security and regulatory compliance standards, specifically designed for the high-volume applications with millions of transactions per day.  The Company delivers packaged document management, business process, and related analytical data applications exclusively as Software as Service (SaaS) via a patented multi-tenant service platform.
More than 40 major airlines and MROs trust AirVault with their aircraft maintenance records, including the largest airlines in the world. Today, AirVault manages the maintenance records for more than 50% of the North American commercial aircraft fleet for 4,400 aircraft tail numbers and 20% globally.   AirVault manages more than seven billion records in a private, secure cloud hosted at the company's fully redundant data centers for access by 40,000 users worldwide.
FOCUS Investment Banking LLC advised Critical Technologies in this transaction.
GE Aviation, an operating unit of General Electric Company (NYSE: GE), is a world-leading provider of commercial and military jet engines, and avionics, digital solutions and electrical power systems for aircraft.
GE is the world's Digital Industrial Company, transforming industry with software-defined machines and solutions that are connected, responsive and predictive. GE is organized around a global exchange of knowledge, the "GE Store," where each business shares and accesses the same technology, markets, structure and intellect. Each invention further fuels innovation and application across our industrial sectors. With people, services, technology and scale, GE delivers better outcomes for customers by speaking the language of industry.  www.geaviation.com/digital
# # #
Contact:
Jennifer Villarreal
1 616 241 8643
jennifer.villarreal3@ge.com